GMC's lineup of electric pickup trucks expands with the addition of the Hummer EV SUV. This is a special test vehicle that is equipped with new technology.
New technologies include, mapping available through the redesigned myGMC software and a new available Power Station generator that allows the driver to draw up to 3 kilowatts of power from the vehicle, turning the beast into a power source.
Three electric motors producing 830 horses take care of the movement of the impressive car. This power is enough to provide an impressive car performance. The typical 0-100 km/h test is completed in just 3.5".
New satellite route mapping allows the driver to discover and navigate off-road routes.
Like the Hummer EV Pickup, the new SUV is built with an interdependent body/battery structure that performs two important functions: it strengthens the overall structure for increased stability while protecting the dual-stack battery from off-road stresses.
The strength and stiffness of the floor helps to reduce twisting and bending, while also providing the required rigidity when the Sky Panels and I-Bar are removed.
Technology designed to improve on- and off-road touring includes an updated myGMC mobile app, a redesigned display and improved features, including a new, more accurate road map.
It helps plan and navigate off-road routes and provides information about charging points and their distance from off-road points. Provides real-time energy usage and energy forecasting. Routes and plans can be downloaded from an app on the driver's phone and displayed on the car's infotainment screen for easy, quick navigation while driving.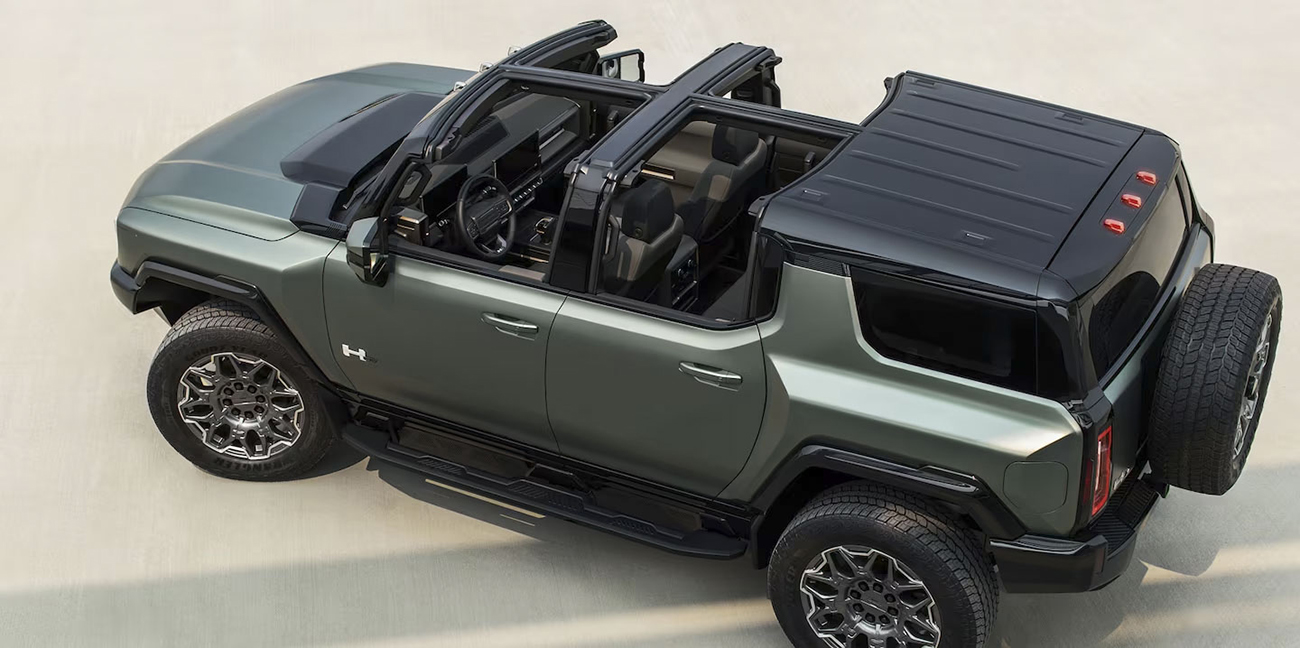 A large 13.4-inch infotainment screen and a 12.3-inch Driver Information Center display present a wealth of information about the vehicle's performance and route map display from the myGMC app.
The Digital Key allows the driver to use their smartphone as a Hummer EV key device. The technology detects the owner's phone and its location near the car, enabling the activation of various functions such as the approach light, unlocking the car and more.
HD Surround Vision with up to 14 camera views and available UltraVision offers up to 17 camera views using underbody cameras (including the available Extreme Off-Road package).
Off-road graphics provide information related to the vehicle's selectable features and performance indicators in off-road driving conditions, such as effective vehicle location, eLocker engagement and more.