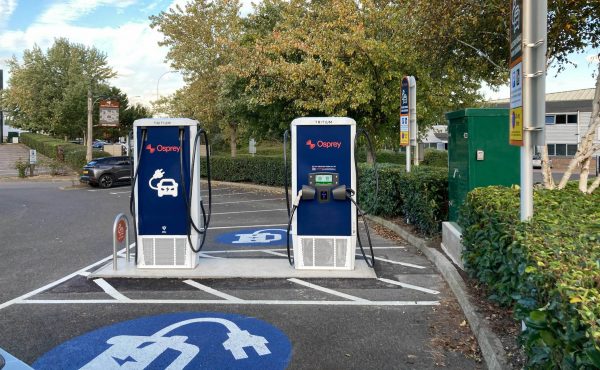 The way to install 8,000 charging stations available to the public for electric vehicles (E/O) is opened by the action "Charging Everywhere" (Official Gazette 2966/B/05-05-2023), with a total budget of one million euros 80. Action platform (https://fortizopantou.gov.gr) is available from yesterday, Thursday, May 11.
The main objective of the measure is to create, in terms of healthy competition, a basic network of electric public car charging throughout the country, covering all cities and the national road network, so that citizens can travel with their electric car everywhere without problems. , economical and "green".
The measure will provide financial incentives for the distribution, installation and grid connection of publicly accessible EV charging stations, powered by electricity produced from Renewable Energy Sources (RES) in public areas of cities, to the critical infrastructure of transportation (national roads, airports, ports, railway stations) and in private places with public access such as gas stations, car parks (parking lots) and other places of interest (eg chain stores) , etc.).
The beneficiaries of the measure are Commercial and Sole Proprietorship Companies, Cooperatives, Partnerships, Unions engaged in commercial activities, Public Organizations and Municipalities. More specifically, Beneficiaries are entities that pay the investment cost for developing H/O charging stations and are divided into 2 Categories (I and II):
Category I: Owners or those who have the legal right to the exclusive use of the space where the station will be installed, and who have a contract with the Charging Infrastructure Operator (FEYFHO) who is responsible for its operation station.
Category II: E/O Charging Infrastructure Operators (FEYFHO), which is contracted to provide full and unrestricted use of the facility's installation area.
The total budget of the action is 80 million euros, it comes from the resources of the Recovery and Resilience Fund and is distributed, according to the location of the payment centers, as follows.
Category A with a budget of 30 million euros (distributed by the Region): Payment centers placed in the areas of responsibility of the OTA. Class A and are included in Electric Vehicle Charging Schemes (SFHO), whose nominal installed power is greater than or equal to seven point four (7.4) kW. More than that:
Beneficiaries of Class A are FEYFHO Sponsors resulting from the operation of transparent tenders (in accordance with the general issues of article 2 of number 16 of Law 4710/2020) which preceded the development, management and operation of these centers accessible by public.
The levels of assistance for the beneficiaries of this category are determined according to the Memorandum of Agreement signed between the Contracting Authority and the Stakeholder, while the maximum levels of assistance are set, according to the population of each Municipality, which reaches up to 70% for small municipalities more. .
Category B of charging stations installed in areas with public access outside of Category A with a budget of 50 million euros and a partial allocation as follows:

Charging stations on the axes of the Trans-European Transport Network (TEN-T) such as roads, major ports, airports and railway stations (p. 15 million)
Charging stations in other places such as gas stations, car stations (parking businesses), marinas, parking areas of buildings with public access, etc. (eg 35 million euros distributed to each Region)

In addition, the following applies to Group B facilities:

Eligible to receive subsidies of this type are only direct current (DC) charging stations with a power greater than or equal to thirty (30) kW, except vehicle stations (parking businesses) where alternating current stations are also eligible (AC). ) with a nominal power greater than or equal to seven point four (7.4) kW.
The levels of support for this category depend on the place (Provincial/Regional Unit) where the centers are located, as well as the size of the company (large/medium/small) that is the beneficiary of the measure. These percentages range from 20% (eg a large company installing an E/O charging station in Athens Main Sector) to 65% (eg a small company installing an E/O charging station in Thrace). Also, a maximum amount of total eligible consumption is set for each charging station based on the output power of the station and the connection method (supply size) to the electricity grid.
E/O charging stations are considered eligible for a category B subsidy only if they provide public access at least on a 12-hour daily basis and for five (5) days per week.
Regarding the number of applications for Category A, the potential beneficiary can send as many applications as the Agreement for charging points included in the SFHO Municipality in which it is the Sponsor following the relevant tender. For Category B, up to six (6) applications can be made for each Region (applications are made for payment centers within the same Region) and as long as the limitations set for the total amount of aid that each beneficiary is entitled to receive. apply at the same business level.
The application information system will remain open until December 31, 2023, or until available resources are exhausted.