Kia EV9 drives perfectly even in bad weather conditions. During winter tests in Arjeplog, Sweden, in sub-zero temperatures close to the Arctic Circle, Kia engineers tested the new electric SUV to ensure optimal battery and charging performance, despite extremely low temperatures. In addition, they improved the Traction Control System for better performance when driving on snow and ice.
"It's a myth that electric cars are not good for driving in the snow," says Gunther Frank, General Manager of Development Project Operations at Hyundai Motor Europe Technical Center (HMETC). "With the Kia EV9, we've proven we have the technology to overcome the challenges of charging speeds in bad weather, along with improved ride and handling to make EVs safer and even more fun to drive in the snow."
Under ideal conditions, the Kia EV9 has an all-electric range of over 541 kilometers, according to the Worldwide Light Vehicle Test Procedure (WLTP). With 800 Volt fast charging, it can recover up to 239 kilometers after just 15 minutes of charging.
"Like the human body, a battery has a certain temperature where it feels most comfortable," says Frank. "Within this range, it can provide excellent performance during driving and charging. Outside this range, proprietary, advanced battery technologies have been implemented to manage these extreme conditions.
One of these features is battery mode, first introduced with the Kia EV6. Battery conditioning basically means heating the battery before charging. By reaching the battery's maximum temperature before charging begins, the EV9 can continue charging very quickly, despite the cold.
Another feature, EV Route Planner, introduced for the first time with the EV9, offers customers even more convenience by automatically detecting charging points along the way when needed. The system analyzes the vehicle's real-time data, as well as the route set in the AVN system, to add charging points when needed. When the estimated range of clean electricity is not enough to reach the destination, AVN displays a pop-up window that suggests possible charging stations and asks the customer if they want to add them to the route. This means customers don't need to spend time planning their journeys based on the availability of charging stations – EV9 does it for them, showing them when, where and for how long they will charge.
The EV Router and battery conditioner work together to preheat the battery in cold conditions when the vehicle approaches a fast charger. For customers, this means more time behind the wheel and less time to charge – or think about charging. "Our goal is to provide the best driving and payment experience for our customers," Frank said. "We want them to be able to drive long distances in the shortest possible time and in the quietest way possible to make the transition from ICE cars to EVs as easy and smooth as possible."
Designed for safe and stable operation
The Kia EV9's low center of gravity and long wheelbase help stabilize the car when driving – in particular, by reducing cornering. To cope with the added weight and acceleration associated with EVs, engineers added front brake discs. Additionally, the Kia EV9's braking system has been improved by implementing a second-generation integrated electric booster, or IEB, to reduce overall weight and improve energy efficiency.
The EV9's chassis has been improved and the suspension tuned to ensure better snow and ice handling capabilities. Engineers aimed to find the right combination between safe and smooth handling and sensitivity and fun to drive. The result is a more balanced driving experience aimed at providing maximum passenger comfort, regardless of driving conditions.
The Kia EV9 was fitted with HMETC special winter tires for its tests in Arjeplog, Sweden. These tires provide maximum stability on snow pistes. The Kia EV9 will come with a choice of 19-inch or 20-inch alloy wheels, while the GT Series version is also available with 21-inch wheels.
Another feature to improve driving in snow and ice is four-wheel drive. The all-wheel-drive Kia EV9 has electric motors in the front and rear. The RWD model uses a 150 kW electric motor and the AWD has a total output of 283 kW. This doubles the power of the system when AWD is in use.
The Kia EV9's Traction Control System, or TCS, is meant to improve performance when driving on rough terrain. Drivers can choose from Mud, Sand and Snow modes using the Terrain Mode Select button on the steering wheel to optimize driving performance or different conditions. The system adjusts the engine's output and torque distribution, as well as chassis systems and other stability control features to ensure safe performance, even in low-grip conditions. This means that the all-new Kia EV9 can also be driven off-road.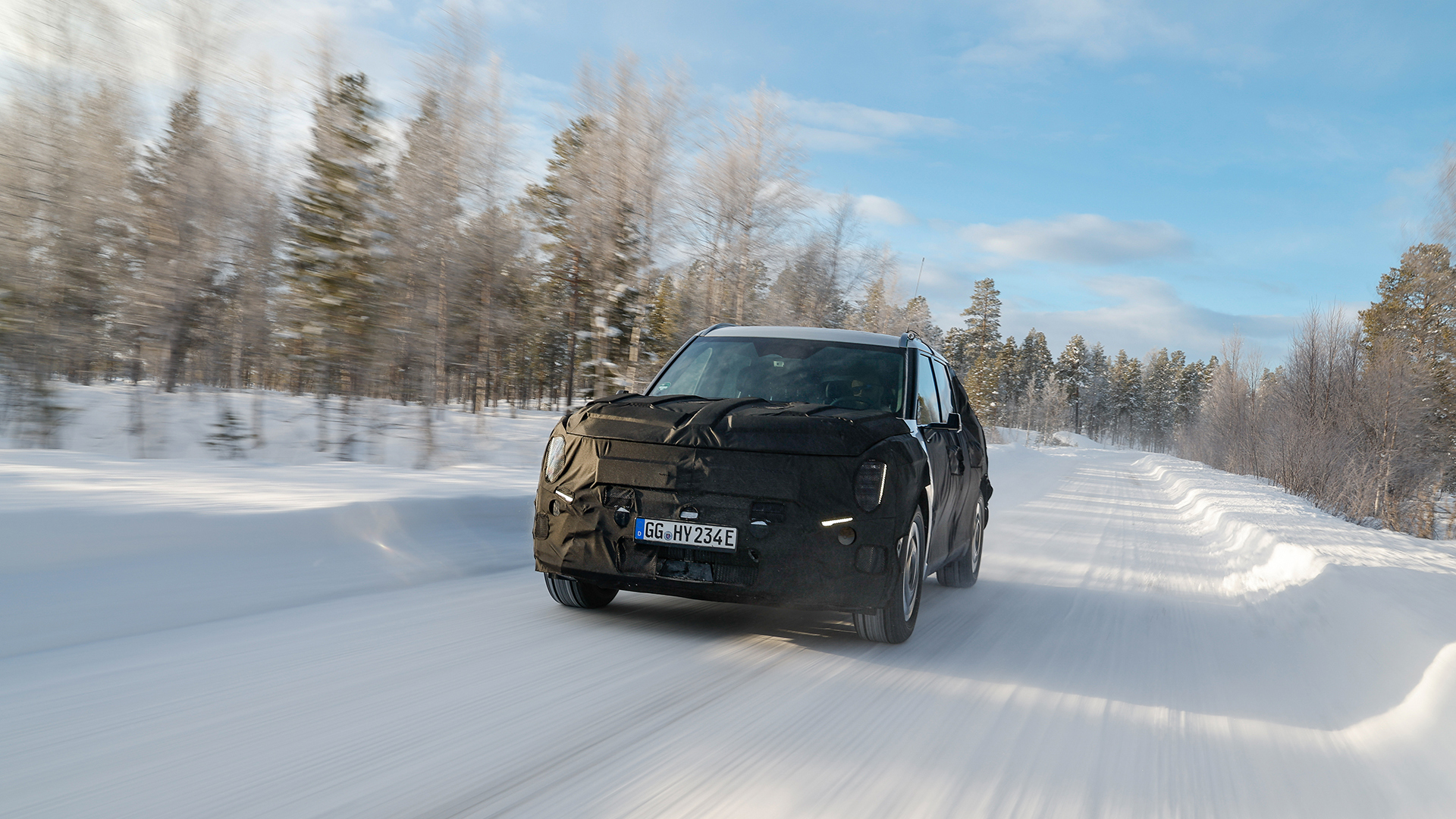 Snow conditions have been optimized to maintain stability and speed in slippery conditions. When Snow mode is activated, the traction control system limits the torque from the engine and controls it for better tire traction on all four wheels to maintain forward speed in slippery conditions. It also uses better levels of brake control to improve traction. All these features work together to provide customers with a safe and stable experience – while also being fun to drive.
Source: Kia