The Italian compact crossover has been confirmed – from its first "spy" photo without a trace of concealment – to be the successor of the Fiat 500X, with a wide technical affinity with the new Jeep Avenger.
The Fiat 600 appeared test it on public roads in Germany, franklya few months before its official debut (end of 2023). In its premiere, according to the news so far, it will have petrol/hybrid and electric-only versions.
A sticker "More Love" (pun on the words "more love") implies that exactly Fiat 600 model was used to shoot an advertising or commercial video.
From its silhouette, the Fiat 600 is visible it maintains the proportions of the 500X, with a more rounded and aerodynamic nose. The passenger compartment looks large, while at the end of the roof we find a black wing. The rear lights remain in the beauty of the 500 family.
The new Fiat 600 will be shared by Jeep Avenger that production line (in Tychy, Poland), the the same CMP platform and quantity of mechanical and electrical parts. It is also said to have an element of the same dashboard screen and several digital technologies of Jeep's "sister" model in the Stellantis group.
The same connection with the Avenger makes it highly likely that the state in its basic electric version Fiat 600 will use it. 156 hp electric motor with front wheel driveand battery type of about 400 kilometers.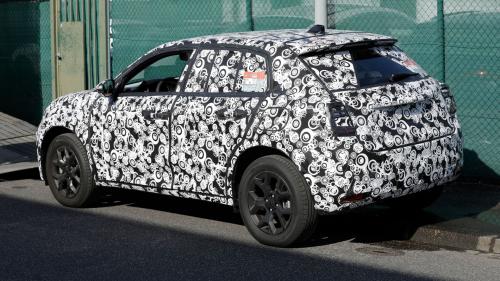 As for versions with internal combustion engines, it is expected to be found in the base and 1.2-liter three-cylinder engine with a power of 101 hp. Its price will be more modest compared to Avenger, and The basic version starts from around 22,000 euros.