According to registration data in the period January – April 2023, sales of new two-wheeled motorcycles (scooters, motorcycles, ATVs and scooters over 50 cc) increased by 23.14% compared to the same period in 2022, reaching 17,436 sales. .
Despite the fact that this year there have been significant changes – with January and March setting sales records and sales rising 84.7% and 48.2% respectively, February falling by 10% and April flat in 2022 – the first four months of the year increased 3,277. bikes were sold and registered over the same period in 2022.
In terms of brand registrations, the top five positions in the table are occupied by the same companies that occupied the first five positions in 2022 with Honda taking first place with 4,440 registrations, SYM second with 4,044 registrations and Piaggio third. 2009 classification. Yamaha and Daytona round out the top five with 1,644 and 1,488 sales respectively.
In the list, with the first 30 models in sales, the dominance of scooters, with 22 models, is quite constant. Among those 30 there are also 6 children, motorcycles and ATVs.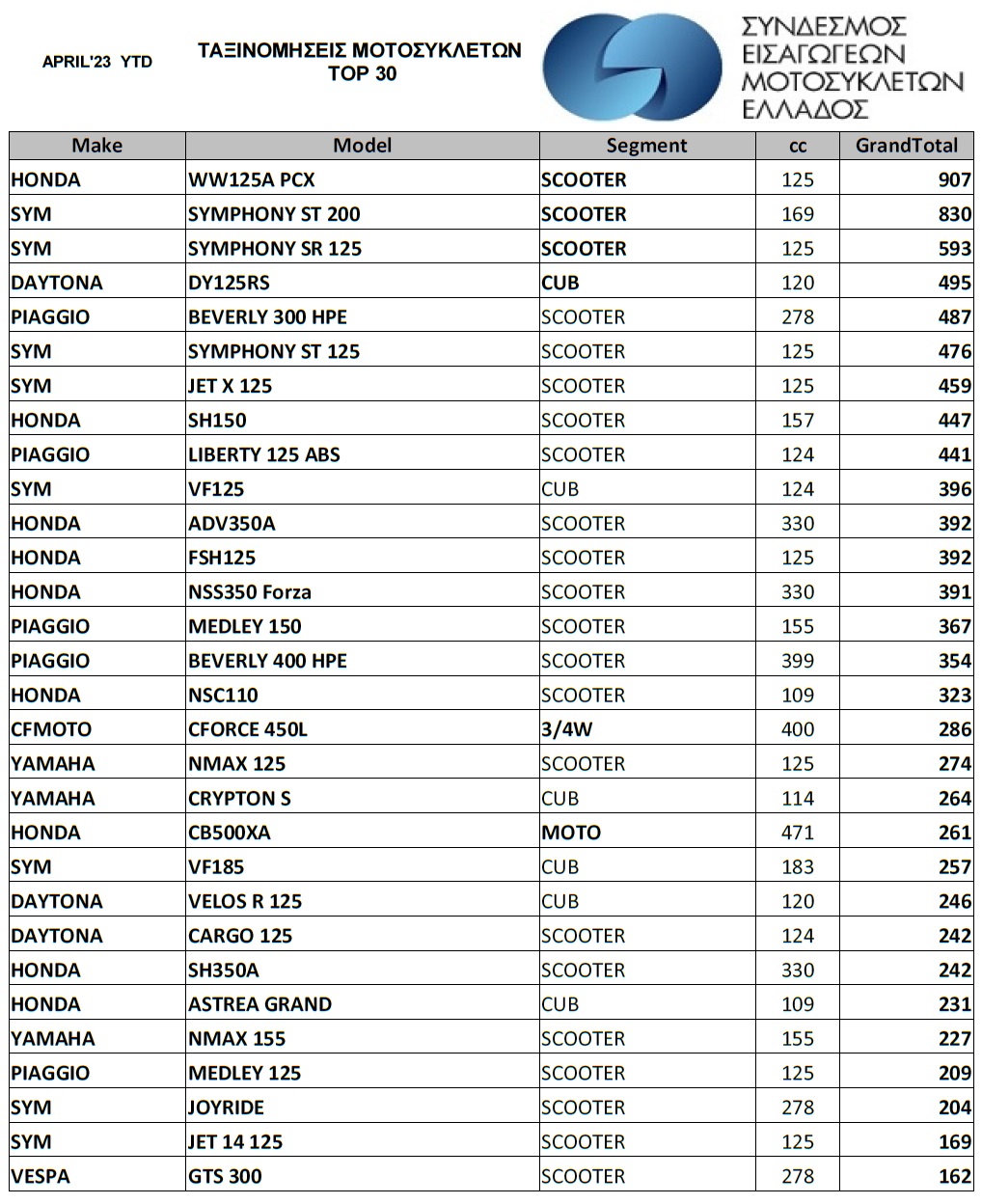 In the list of top 30 models, Honda's PCX 125 remains in first place with 907 sales, closely followed by SYM's Symphony ST 200 with 830 sales, in third place is another SYM model Symhony SR 125 with 593 sales. the top five are Daytona's DY125RS (first child – duck-duck) with 495 sales and Piaggio's Beverly 300 HPE (first intermediate model) with 487 sales.
Other models that we think deserve a mention are the Honda CB500X which is consistently the number one motorcycle with 261 sales and the CFMOTO CFORCE 450 which with 286 sales puts the quad in the top 30 list.
For those who want more information, the following lists with company classifications by category follow.