The cheapest new Hyundai SUV will go on sale this year, it will cost only around 210,000 CZK.
17/04/2023 | Peter Miller
After the success of the new SUV, which started with a price of almost a quarter of a million CZK, Hyundai will start lower and try to take customers away from cheaper competitors from brands like Tata and Maruti. As you can guess, there will be no more "fussing" with a new product called Exter.
Even the Korean brand does not escape the trends of recent years, so its offering is gradually becoming more expensive due to the expanding portfolio of unnecessary (last year in the Czech Republic 1.5% share of all Hyundai sales) electric models. However, it remains one of the cheapest, and you can have a compact i30 for example from 389,990 CZK, which is cheap when the Škoda Octavia starts at 619,900 CZK.
Also with SUVs, prices start very low, even lower. The Bayon model is available from CZK 379,990, although we can talk for a long time about how much the SUV really is. Today, a number of car companies basically raise the classic hatchbacks by a few centimeters, adding a bit of proper stylization (even those of design, not necessarily just a few plastic extensions) and that's it. At best, we would call such a car "crossover", but that word doesn't sell, the letter SUV does. And so the SUV is basically everything that "esúvéčka" at least remotely resembles.
A very small example (but good, one would say) Casper, which is currently making a big splash in the world in Korea with a price starting at almost a quarter of a million crowns, so it is explained in the same way. But it will be nothing compared to the other new product, which will be presented this July and will go on sale in August at a much lower price. It will be called Exter, which evokes connections with everything from a serial killer to a British university town.
The novel name was revealed by Hyundai itself, until now it was only talked about in connection with its internal name Ai3. It will be another small car that will be based on the current Grand i10 hatchback, which measures 3,805 mm in length, 1,680 mm in width and has a wheelbase of 2,450 mm. The specific dimensions (that is, probably away from the wheel) will be different for Exter, but let's hope for similar numbers, which with a different body and increased ground clearance will place the new product somewhere between Bayon (length 4,180 mm) and Casper (3,595 mm ).
We already know that the new model will be offered with two petrol engines – a naturally aspirated 1.2 (83 hp) and a 1.0-liter turbo with a higher output that has yet to be determined. An electric version may also appear on the menu later, but at the moment it is not firmly planned. In terms of appearance, we can only touch, the first official model very clearly suggests the Exter silhouette. However, early photos of the Ai3's hidden prototypes showed a more modern angular cutout.
As we have already said, serial production of the new model will start in July, sales should start already in August at a price comparable to the Maruti Fronx and Tata Punch models, which can be purchased from 80 thousand Indian rupees (about 207,000 CZK). ) It is also clear from this that the cheap novel is not directed to us, but only to India and surrounding countries. Unlike Casper, it is almost certain that nothing will change in the future, unfortunately.

So far, Hyundai has only revealed the new affordable Exter SUV. Graphics: Hyundai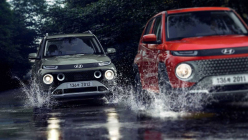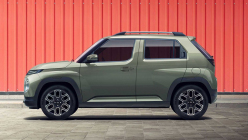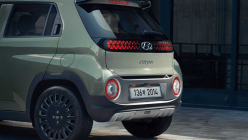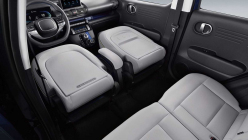 But let's hope for something like a bigger, but cheaper alternative to the Casper model. Photo: Hyundai
Sources: Hyundai, Coach
Peter Miller
All articles on Autoforum.cz are opinions that reflect the opinion of the editor or author. Except for articles marked as advertising, the content is not sponsored or similarly influenced by third parties.