The station wagon was once a showcase for European brands. But while it remains plug-and-play in Germany and Sweden, the Nio ET5 Touring fills the gap.
Like Yes would receive a school report, the teacher would diligently write a beautiful curve. The brand came to Europe at the beginning of October 2022 and did not stay silent for a while. The ET5 Touring is already the fourth model that Nio is introducing, after the ET7, EL7 and ET5 sedan. The Nio EL6 has now also entered the market, the model of which the Chinese have the highest expectations. This small SUV – of course with a plug – competes with cars like the BMW iX1.
But there are two things that stand out the most. Of course the Nio carefully copied the Touring suffix from BMW. A bit of courage, which Nio shows that he has big ambitions and is not afraid of the established order. The most surprising thing is that the ET5 Touring is the first electric station wagon in its segment. And with that, Nio punches European brands straight in the heart. The station wagon was a bit of 'us'; Volvo and Mercedes even became famous with it.
If you fold the split-folding rear seat (40:20:40), you can store 1300 liters. The Nio has an eye for detail, with a removable flashlight and a magnetic hook on which you can hang your shopping bag. This way you keep the bags of chips and packets of toilet paper out of the luggage compartment. There is also a hook on the trunk lid, which is intended for hanging a wetsuit. Nio has a good view of the expectations of his buyers in sports…
The voice assistant Nomi is easy to understand

The sleek and understated dashboard is familiar from other Nio models. After all the testing of the past year, voice assistant Nomi – with its twinkling eyes above the center console – feels somewhat like an inspirational family friend. You have to pay 600 euros for a talking ball. If you do not do this, the voice assistant will be invisible. The one-piece glass panel roof is nice, which you can lower when the sun is shining happily.
With the 'regular' ET5 we were able to sit very high. On second thought, the Chinese thought so too and started working on it. Although we still feel on the fence. You sit comfortably in the back, the station wagon has 1.7 cm more headroom than the sedan. It doesn't seem like much, but it makes a big difference if you're tall.
"Voice assistant Nomi – with her twinkling eyes – is a pushy family friend."
The four-wheel drive Nio ET5 Touring is available with a 75 kWh or 100 kWh battery. This gives it a range of between 435 and 560 km. Fast charging is possible with 140 kW. That's not spectacular, but it's not bad either. One hundred runs of 490 hp and 700 Nm power ET5 is impressive: it is completed in 4 seconds. If you try it yourself, you will notice that the grip of Pirelli P Zero tires with 19-inch wheels is amazing.
Just like and Neo ET7 with the ET5 sedan, we get very little chassis tuning; the difference between Comfort and Sport (Plus) can be even greater. But otherwise the ET5 Touring is a good touring car. It's heavy and the steering wheel is far away, but a lot of sound doesn't make it into the cabin. This gives you the opportunity to talk to Nomi peacefully, although she doesn't speak Dutch and so you have to say voice commands in English. As a result, he understands almost anything you say. Nio is working on a voice assistant that understands Dutch, but that won't be available until 2024.
A thin man

However, the ET5 Touring is fast and quiet, its dimensions do not always mix with the narrow roads of the Dutch laro and the city center. The two-meter-wide (!) skid between pensioners cycling at dizzying speeds and carelessly parked cars is a dangerous job. Although you get help from 11 cameras, 5 radars, 12 ultrasonic sensors and lidar to avoid causing any damage.
Something else stands out, but in a good way. Chinese car brands are known for their beeps and audio warnings when you do something that is not allowed. It must be said, Nio has also listened to criticism on this matter. If you're too focused on the navigation screen or miss road signs, you'll now get a civilized beep instead of an annoying speech or a clogging alarm.
Nio ET5 battery rental and registration

If you are interested in Nio, you have to go through a difficult process. You can buy Nio in the Netherlands with or without battery and you can choose to register. The brand is not yet used in Belgium. If you buy an ET5 Touring without a battery, you pay 51,900 euros. Then you pay 169 euros (75 kWh) or 289 euros (100 kWh) every month for the battery. Anyone who buys a car with a battery can't use battery exchange stations which Nio makes a good impression. The Touring price then is 63,900 euros (75 kWh) or 72,900 euros (100 kWh).
If you choose subscription, the third option that the Chinese offer, you pay 1167 euros (12 months) or 1043 euros (60 months) every month. There are now 7 battery exchange centers in the Netherlands. There is a small chance that you will have to wait if you are one of the 188 Nio drivers. But if there's one car that can better those numbers, it's the ET5 Touring. Especially if the competition continues late.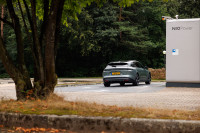 Nio ET5 Touring: to buy or not?
Nio builds good cars, they have proven that after four models. The ET5 Touring could force success, because no competitor currently offers an electric power station. It hits the heart of European brands and offers (lease) drivers who still use diesel in a big BMW or Mercedes a more satisfying alternative.