Nevada
–
Koenigsegg The Agera RS is the fastest production car recorded in the Guinness World Record. But that record has just been broken by high performance car manufacturer, Shelby Supercars (SSC) North America, Tuatara.
This record was broken by SSC Tuatara on October 10 2020 on State Route 160, USA, with a length of approximately 11.2 km.
The test was conducted twice, in the first test SSC Tautara was able to reach a speed of 508.73 km / hour. In the second attempt, the Tuatara increased the speed further with a record of 532.93 kilometers per hour. From the above results, SSC Tautara has an average speed of 508.73 km/h. This is a new record as the fastest production car in the world. To calculate the accuracy of this speed it also uses GPS which is connected to 15 satellites.
This record beats the record Koenigsegg Agera RS in November 2017. Location and distance, and using the same track as SSC Tautara, Konigsegg Agera RS is capable of running at an average speed of 446.97 km/h.
The SSC Tuatara also beats the record of the Bugatti Chiron Super Sport hypercar, which can reach a top speed of 490.48 km/h. But Bugatti's record does not match it, because it is a record Bugatti Chiron The Super Sport was only available once, using a different test location, in Ehra-Lessien, Germany.
SSC Tuatara Photo: JAMES LIPMAN / SSC Northamerica
This is not the first time SSC has broken speed records, as its previous creation, the Ultimate Aero TT, managed to take the title in 2007 with an average two-way speed of 411.76 km/h (255.83 mph).
SSC Tuatara Photo: JAMES LIPMAN / SSC Northamerica
"It's been ten years since we held this record with our first vehicle, the Ultimate Aero, and the Tuatara is well ahead. Its performance reflects our passion and focus in our pursuit of this achievement," said Jerod Shelby, CEO of SSC.
To solve this speed 'demon', SSC North America put professional racer, Oliver Webb behind the wheel. The car was fed non-racing fuel, and the details of these street tires surprised the pilot. Why not, of course the SSC Tuatara could still go fast, if it wasn't hindered by the wind.
"The car didn't run out of power. All the wind resistance kept us from reaching the limit of the car," said Oliver Webb.
The Tuatara is powered by a 5.9 liter twin-turbo V8 engine that produces 1,750 horsepower. The car is capable of producing 1,750 hp when using ethanol E85 fuel and 1,350 hp on octane 91 gasoline. The engine produces a maximum torque of 1,735 Nm and is connected to an automatic manual transmission (AMT).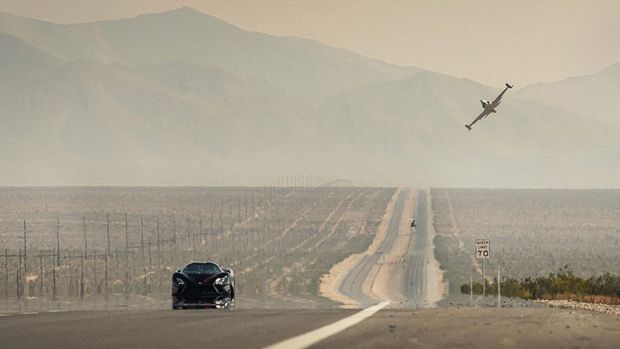 SSC Tuatara Photo: JAMES LIPMAN / SSC Northamerica
The dry weight is only 1247 kg, which is thanks to the carbon fiber body and monocoque. Aerodynamics also play a role, and the SSC Tuatara hypercar has a frontal area of ​​18 square feet and a drag coefficient of 0.279.
SSC will only generate Tuataras up to 100 units. Interested? The cheapest price is 1.6 million US Dollars or around Rp. 25 billion.
Watch Video"Luhut's annoyance with electric car critics"
[Gambas:Video 20detik]
(riar/din)