The Peugeot 408 (2022) strives to occupy an intermediary niche between the 308, 3008, and 508 models, exhibiting a crossover coupé configuration. Commencing from August 2023, this vehicle will be offered as a full hybrid, available in GT and Allure trim levels.
The initial price for the Peugeot 408 Allure stands at 37,000 euros, while prospective purchasers of the forthcoming full hybrid variant should allocate a minimum of 38,800 euros. As a plug-in hybrid option, the Peugeot 408 enters the market at 44,750 euros, all prices being referenced from August 2023.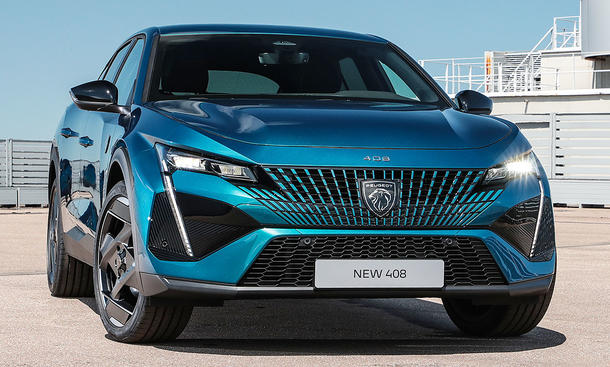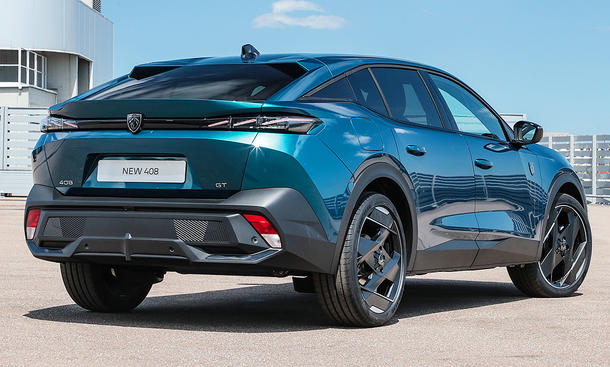 Propelling the Peugeot 408 (2022) is a three-cylinder turbocharged petrol engine, churning out 131 horsepower (96 kW) in conjunction with an eight-speed automatic transmission, serving as the entry-level model. Since August 2023, a fully hybrid powertrain with a 1.2-liter PureTech petrol engine and an electric motor generating 100 kW (136 hp) of system output has been incorporated.
Power transmission is handled by a six-speed dual-clutch transmission. Additionally, two plug-in hybrid variants are available, boasting system outputs of 180 hp (132 kW) or 225 hp (162 kW). These plug-in hybrids operate with a 12.4 kWh battery, which can be charged using a 3.7 kW single-phase on-board charger, with an optional 7.4 kW single-phase on-board charger also available. Notably, the diesel variant, once emblematic of the brand, has been phased out, and the brand intends to introduce an all-electric version in the future.
The Peugeot 408 (2022) encounters competition from rivals such as the Cupra Formentor, Mercedes GLA, and Renault Arcana.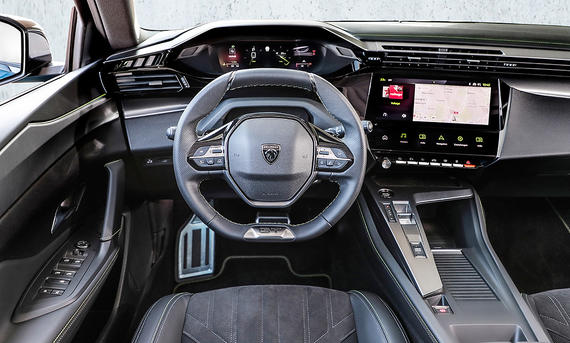 Exuding an unconventional crossover coupé design, the Peugeot 408 (2022) measures 4687 millimeters in length, 2062 millimeters in width, and 1478 millimeters in height. Its sharp-edged design evolution represents a pinnacle, reminiscent of the styles adopted by esteemed brands like Lexus and Lamborghini. The rear showcases a monolithic appearance, featuring aero elements and a prominent diffuser-like bumper, while the avant-garde 20-inch wheels required a year of dedicated development.
The interior presents an extravagant i-Cockpit, familiar to the current 308 models, distinguished by a flat steering wheel characteristic of the brand. In contrast, the Peugeot 408 (2022) introduces a ten-inch infotainment screen alongside a ten-inch instrument display.
Occupants seated in the back will relish the elongated wheelbase, facilitating an exceptionally spacious ambiance, particularly in the knee region, and the roof's gradual slope provides ample headroom. The Peugeot 408 (2022) is available in both Allure and GT trims, the latter featuring a generous boot capacity ranging from 536 to 1611 liters, placing it marginally below the 308 SW but surpassing the 3008 model.
Upon examination of its driving dynamics, the Peugeot 408 (2022) emphasizes a balance between comfort and performance, rendering a harmonious amalgamation. Remarkably serene during operation, the GT version boasts standard sound-insulating double glazing. With the assistance of a 110-hp electric motor, the 408 demonstrates adequate acceleration. The collaboration between the four-cylinder engine, producing 180 hp, and the electric motor manifests in a relatively smooth interaction, devoid of any undesirable load shifts.
Unfortunately, the Peugeot 408 (2022) fell short of achieving five stars in the Euro NCAP crash test evaluation, securing a four-star rating instead. While the basic values for occupant and child protection were rated as average to good, with scores of 76 percent and 84 percent, respectively, pedestrian protection attained 78 percent, and the assortment of assistance systems was graded at 65 percent. The absence of a fifth star can be attributed to several individual shortcomings, including a high risk of injury to the upper body of the driver, a slightly elevated risk of leg injury in a slightly offset frontal collision, and increased pressure on the upper body during a pure frontal crash. Furthermore, critiques were directed towards the lack of an e-call system and the scope for improvement in the emergency brake assistant.