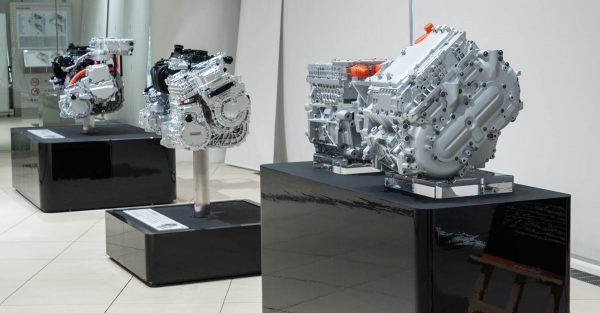 Nissan has revealed its new approach to developing electric powertrains, which it calls 'X-in-1'.
According to the approach, the key components of the EV and e-POWER operating system will be shared and configured, resulting in a 30% reduction in development and manufacturing costs by 2026, compared to 2019. Through "X-in-1", Nissan aims to further increase the competitiveness of its EV and e-POWER vehicles.
Nissan has created a model of "3-in-1" powertrain, which combines electric motor, inverter and reducer, which is designed for use in EVs. The "5-in-1" model system, which additionally combines the generator and electric power, is designed for use in e-POWER models.
The X-in-1 method, which covers '3-in-1', '5-in-1' and other possible variations, is designed to facilitate the production of key EV and e-POWER components in a single line.
In 2010, Nissan became the automaker's first mass-market EV, the Nissan LEAF. To continuously improve its electrification technologies, Nissan listens carefully to its EV customers around the world.
In 2016, Nissan launched the unique e-POWER electric drive system, using EV technology, which provides the same driving pleasure as an EV, without the need for plug-in charging.
The X-in-1 method of manufacturing electric trains offers the following advantages:
It shares and configures key components, improves production efficiency and reduces operating costs by approximately 30%. In e-POWER, it aims to make the vehicle costs similar to ICE vehicles by around 2026.
Reducing the size and weight of the device improves vehicle performance and reduces noise and vibration
The engine uses 1% less heavy rare earths
Sharing key features and control technology provides an engaging driving experience unique to Nissan electric vehicles.
Toshihiro Hirai, senior vice president and head of EV engineering and development, says, "We are making the most of our decade-long experience-plus expertise in the development and manufacturing of electric technologies. Through our innovation in the development of electric powertrains , we will continue to create additional value for our customers and offer exciting vehicles, EV and e-POWER, as widely as possible."
In line with its long-term vision, Nissan Ambition 2030, the company aims to increase its range to 27 new electric models, including 19 EVs, by fiscal year 2030. Nissan aims to bring the unique value of its electric vehicles to wide range. of buyers, presenting the most suitable electric models for each market at the most suitable time.