During NIO Day 2022the Chinese automaker submitted the new EC7 SUV coupe. At the same time, he also launched the new generation ES8 SUV. Models that expand the manufacturer's range of battery-powered vehicles that aim to continue growing beyond China's borders.
NEW MODELS
Both new versions are based on the second generation NIO platform. Going into more detail, the NIO EC7 is an electric coupe SUV which aims to compete for models such as the Audi Q8 e-tron Sportback. Nothing has been said precisely about the arrival of this model on the European market. However, looking at the expansion strategy of the Chinese brand in the Old Continent, there is a possibility that the new NIO EC7 may be sold. also in Europe. However, it will arrive for Chinese sales in May 2023.
The automaker has put a lot of emphasis on the work it has done on the aerodynamics of this car. The result is a Cx of 0.23. The measurements are 4,968mm long x 1,974mm wide x 1,714mm high, with a wheelbase of 2,960mm. This model also has a rear wing that extends outwards to improve available power. The interior offers 5 seats and a large panoramic roof adds to the sense of available space.
The cabin adopts a minimalist style and has a lot of technology. In addition to digital equipment, the new electric SUV coupe offers an infotainment system with a 12.8-inch central display. There is also an advanced voice assistant. As for the power train, we have a 480 kW two engines and 850 Nm of torque. Regarding performance, NIO talks about accelerating from 0 to 100 km / h in just 3.8 seconds. The manufacturer also provides stationary data. To stop a car from 100 km / h you need 33.9 meters.
NIO EC7 also obviously supports it battery replacement. Three battery packs are available: 75 kWh, 100 kWh and 150 kWh (coming later). With the collection of greater capacity, the manufacturer has announced the mileage up to 940 km but according to the Chinese cycle CLTC. With other batteries, the range reaches, respectively, 490 km and 635 km.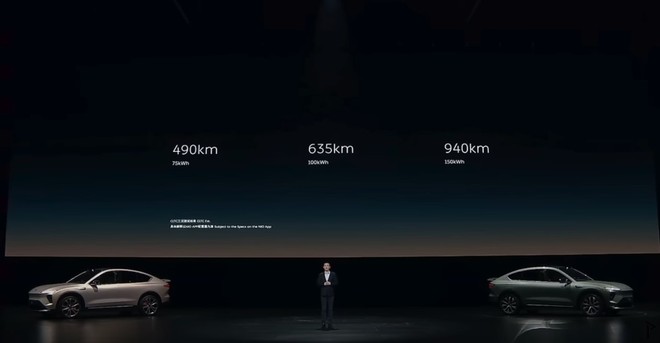 The new model features the latest driver assistance system developed by NIO which can rely on 33 sensors including LiDAR. Talking about price, the new NIO EC7 SUV coupe starts at 488,000 RMB (around 65,800 euros) for a model with a 75 kWh battery and from 546,000 RMB (around 73,645 euros) for a 100 kWh one. For a battery exchange and therefore for a rental battery, prices start at 418,000 RMB (56,380 euros).
Let's move on to the new generation ES8 SUV which will be available from June 2023. Its dimensions are 5,099 mm in length x 1,989 mm in width x 1,750 mm in height, with a wheelbase of 3,070 mm. Inside there is room for 6 people. The powertrain is always the same as the EC7. Therefore, we have 480 kW that allows us to accelerate from 0 to 100 km / h in 4.1 seconds. Instead of, from 100 km / h it takes 34.3 m to stop the car.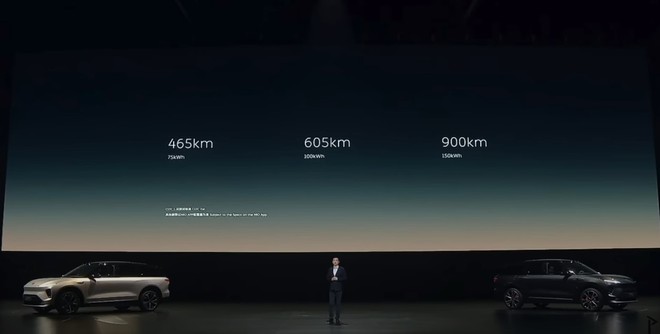 Also in this case we have 3 identical batteries and support for exchanging batteries. With the accumulation of greater capacity comes the mileage up to 900 km, is always clear according to the CLTC cycle. With other batteries, the range reaches 465 km and 605 km. In terms of technology we get the same equipment as the EC7, also in terms of ADAS systems.
Prices starting from 528,000 RMB (about 71,200 euros) with a 75 kWh battery, 586,000 RMB (about 79,000 euros) with a 100 kWh battery and RMB 458,000 (about 61,775 euros.Battery.-Battery. battery exchange and rental battery.
NEW BATTERY REPLACEMENT STATION
NIO also announced the launch of the third generation of its battery replacement station which will make it possible to carry out up to 408 battery replacements per day. This is a 30% increase over the second generation station. Each channel is powered by two Nvidia OrinX chips. The manufacturer also showed its new HPC series with power up to 500 kW.