The latest iteration of the Mercedes-AMG GLE Coupé has been released in Spain, complete with pricing and configuration options. This exclusive and widely coveted SUV coupé from Mercedes has undergone a significant overhaul, with even the sportier AMG variants receiving a major revamp.
The freshly-minted Mercedes-AMG GLE Coupé is poised to make an impressive impact on the Spanish automotive market. The configurator for this updated Mercedes SUV coupé has been made available, thus revealing all the intricate details of the proposed offering tailored to our specific market. This offering includes high-performance sports models boasting the hallmark Mercedes-AMG signature.
The new Mercedes-AMG GLE Coupé not only sports a brand-new exterior design but also comes equipped with enhanced digital and connectivity features. Its technological arsenal has been expanded, all while maintaining its unwavering commitment to electrification. This is a pivotal aspect of its offering, as it enables the vehicle to proudly display an environmental badge and bypass traffic restrictions despite being a luxuriously exclusive SUV with a V8 engine.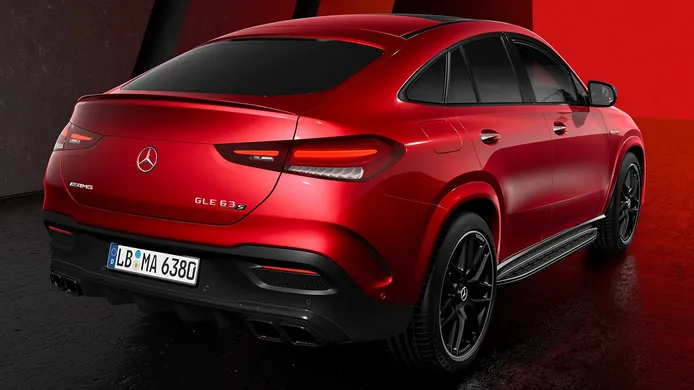 The equipment of the new Mercedes-AMG GLE Coupé
The newly refurbished GLE Coupé, adorned with the distinct Mercedes-AMG seal, boasts an extensive array of features arranged in a singular equipment line. Notably, this equipment line can be further augmented via the Night AMG package. In accordance with the brand's reputation for excellence, this automobile offers a broad spectrum of connectivity, safety, and comfort features. Below, we provide an overview of the most notable standard equipment:
The automobile is endowed with an impressive set of features that underscores the brand's performance-oriented engineering. Commencing with its 20-inch AMG light-alloy wheels, it embodies the hallmark of the brand's cutting-edge engineering. The car's lighting system is equally noteworthy, with Multibeam LED headlights, LED daytime running lights, and LED taillights providing superior visibility in all weather conditions.
Furthermore, the exterior of the car is adorned with an AMG exterior package, which confers a sporty and aggressive appearance that befits its performance capabilities. Automatic High Beam Plus tinted rear windows, and heated, electrically adjustable, and folding exterior rearview mirrors offer additional convenience and safety features.
The interior of the vehicle is equally remarkable, with a panoramic sunroof, black AMG Nappa leather upholstery, and an interior chrome package. The electrically adjustable front seats, equipped with memory functions and climate control, exemplify the vehicle's sophistication, while the brushed aluminum trim with light longitudinal rectification accentuates its elegance.
The AMG multifunction sports steering wheel with height and depth adjustment is another outstanding feature, along with the Air Balance Package and Thermatronic automatic climate control. The headlining is lined in black fabric, and the front cup holder is heated for added comfort.
The car is furnished with a plethora of high-tech features, including a keyless entry and start system, Central locking with remote control, Energizing Package, 360º vision camera, Active parking aid with Parktronic (battery only), Pre-equipment for Car Sharing, Smartphone Integration, Premium remote access services, Head Up Display, Burmester sound equipment, traffic sign assistant, MBUX infotainment system, Android Auto and Apple CarPlay, digital instrument panel, and USB Type-C ports.
Safety features encompass blind spot check, active lane departure detector, electric trunk opening with hands-free function, output warning function, multiple airbags (front, side, curtain, and knee), AMG Performance exhaust system, AMG Ride Control+, and e-Call emergency call system.
All in all, this vehicle represents the pinnacle of automotive engineering and design, incorporating cutting-edge technology and features to create an unparalleled driving experience.
PRICES OF THE MERCEDES-AMG GLE COUPÉ 2023 IN SPAIN