Abarth has expanded the lineup of its inaugural electric car, the Abarth 500e, and introduced new versions that offer a more affordable pricing structure. These updated versions are now available in the Spanish market. The Abarth 500e, initially launched as an exclusive limited edition model with a starting price above €40,000, has transitioned into a more accessible vehicle.
Following a brief period in the market, the Scorpionissima limited edition variant has been discontinued to make room for the new trim levels that will be part of the lineup offered in Spain. It's worth noting that the Abarth 500e is available in two body configurations: hatchback and convertible.
Moreover, the Abarth 500e boasts a WLTP cycle-rated range of 265 kilometers, showcasing its ability to cover a considerable distance on a single charge.
The autonomy, or range, of the new Abarth 500e is a key aspect of its electric powertrain. At the core of the vehicle lies a 42 kWh lithium-ion battery, which serves as its primary energy source. This energy is primarily utilized to propel a high-performance electric motor with an output of 113 kW (equivalent to 154 horsepower) and a maximum torque of 235 Nm.
The power generated by the electric motor is transmitted exclusively to the front axle, meaning that the Abarth 500e does not offer an all-wheel drive option. Nevertheless, it still delivers impressive acceleration capabilities, allowing it to go from 0 to 100 km/h in just 7 seconds.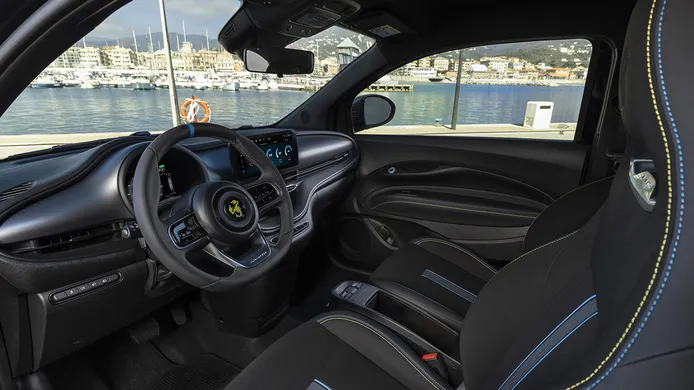 In terms of range, the Abarth 500e can travel up to 265 kilometers according to the WLTP (Worldwide Harmonized Light Vehicles Test Procedure) cycle. It is worth noting that the convertible model has a slightly reduced range of 255 km. It's important to consider that actual range may vary based on driving conditions and individual driving habits.
Charging times for the Abarth 500e vary depending on the type of electrical outlet used. In less than 5 minutes, using a suitable charger, it is possible to replenish enough energy to cover approximately 40 km. Additionally, the vehicle is equipped with an 85 kW fast charging system, which enables quicker charging times when connected to compatible charging stations.