The Morgan brand, renowned for its unique range of classic cars, including the highly coveted Morgans, stands out as a true exemplar of timeless elegance and grandeur, reminiscent of the 50s and 60s. Recently, the company has unveiled its latest offering, a bespoke creation crafted for a discerning clientele, the Morgan Plus 4 Spiaggina.
Morgan's exceptional models cater to a select group of connoisseurs, who value the charm and sophistication of artisanal craftsmanship over advanced technological features. These vehicles exude an aura of exclusivity, fitting for a leisurely cruise along the sun-kissed shores of the French Riviera or other enclaves frequented by the affluent and celebrated.
Presently, Morgan's lineup comprises three models, namely the Plus 4, Plus 6, and the Super. The Super stands as the most distinguished of the trio, being the only roadster in the market featuring three wheels, two in the front and one at the rear, delivering an unparalleled driving experience. However, Morgan's commitment to fulfilling the desires of its most demanding patrons has led the company to create a singular masterpiece, tailored to the specific wishes of an avid collector, lying beyond the scope of the standard catalogue.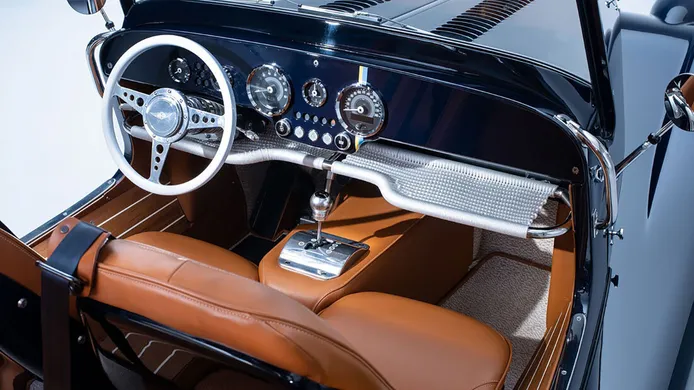 Morgan Plus 4 Spiaggina, true to its classic genes
The Morgan Plus 4 Spiaggina is an unparalleled marvel, boasting exceptional uniqueness. This automotive masterpiece derives from the renowned Morgan Plus 4, characterized by a steel tube chassis that has undergone a significant elongation, rendering it almost akin to a family-oriented vehicle. The frontal wheel arches maintain their muscularity, while the distinct circular headlights, lengthy hood, and thin chrome-bar grille remain unaltered. The robust rear wings, too, remain unchanged.
However, notable variations occur when the vehicle is viewed from the side or behind. Most strikingly, the car lacks doors, and its roof consists of an aluminum panel that extends towards the rear, supported by two wooden safety pillars. Only the front seats incorporate anti-roll bars behind their integrated headrests. The roof design allows it to tilt vertically from the central portion, evocative of the form of "Seagull Wings."
Sailing inspires the latest one-off from the manufacturer of classics
The posterior section of the automobile is enveloped in teak wood exhibiting conspicuous nautical cues. The dashboard integrates clocks boasting chrome rings, which are fashioned in an exclusive design. The nomenclature of this bespoke vehicle alludes to the intricate braiding technique employed on the aged wicker seats' leather upholstery.
It is a testament to the unparalleled craftsmanship that Morgan is capable of, the pricing of which remains undisclosed. The unveiling of this vehicular masterpiece occurred several months after its commissioning and delivery to the owner in the year 2022. The bottom line is that if you possess the necessary means, Morgan is more than willing to take on any challenge that you might throw it's way.