The MG ZS EV, a groundbreaking electric SUV that has disrupted the European automotive market, is currently available for purchase at an exceptional discount of over 5,000 euros. This state-of-the-art vehicle offers a range exceeding 300 kilometers on a single charge and claims to be more economical than renowned models such as the Peugeot 208 and the Opel Corsa.
The introduction of the MG ZS EV has set in motion a seismic shift in the fiercely competitive European electric car market. The debut of Morris Garage's inaugural 100% electric SUV has generated significant public interest, largely due to its attractive price point. In fact, this vehicle is among the most reasonably priced electric SUVs in its class, and it is presently on offer.
Featuring an impressive discount of around 5,000 euros and an exceptional range exceeding 300 kilometers, the ZS EV represents the deal of the moment among compact electric SUVs. However, does it possess superior equipment? What is the ultimate sale price? Let us delve into the details and address these and other pertinent inquiries.
The equipment of the cheapest MG ZS EV
MG has implemented a stratification of the ZS EV lineup, dividing it into two tiers, namely the Comfort and Luxury trim levels. Of particular note is the Access variant, which boasts a reduction of over 5,000 euros in the price for its current sale. It may come as a surprise that the Comfort tier offers a diverse array of options. Without further ado, let us delve into the salient features of this grade's standard equipment.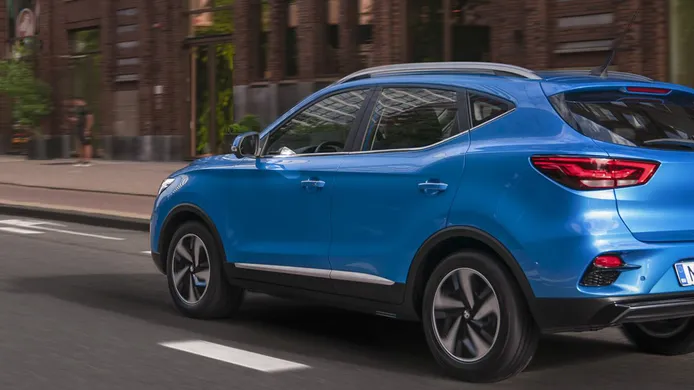 The MG ZS EV Comfort variant boasts an impressive array of cutting-edge features and advanced technology. This vehicle is equipped with energy-efficient LED headlights, LED rear lights, and LED daytime running lights that deliver a crisp and clear view of the road ahead, even in low-light conditions. The headlights also come with a follow-me-home function and automatic lighting, ensuring maximum safety and convenience for the driver.
Moreover, the MG ZS EV Comfort is fitted with roof bars and tinted rear windows that not only enhance its aesthetic appeal but also offer added functionality and privacy. The vehicle is also equipped with multiple airbags, including front, side, and curtain airbags, providing optimal protection to the occupants in case of a collision. Additionally, the e-Call emergency call system, hill start assist, tire pressure sensor, auto hold, and ESP, EBA, ESS, EPB, and HDC ensure that the vehicle is equipped with the latest safety features.
Furthermore, the MG ZS EV Comfort is equipped with advanced driver assistance systems such as adaptive cruise control and speed limiter, intelligent high beam control, speed assistant system, automatic emergency braking, lane departure warning, traffic jam assistant, traffic sign recognition, emergency lane maintenance, rear parking sensors, and a rearview camera. The vehicle also comes with electrically adjustable and heated outside rearview mirrors and an interior rear-view mirror with an anti-glare function.
Moreover, the MG ZS EV Comfort is equipped with an external charging system V2L (Vehicle-to-Load), heated air conditioning, power windows, a two-way adjustable leather-wrapped multifunction steering wheel, Bluetooth, USB connections, a driving mode selector, an infotainment system with a 10.1-inch touchscreen and navigation, Apple CarPlay, and Android Auto. The digital instrument panel with a 7-inch screen and DAB+ digital radio provide the driver with essential information and entertainment during their journey.
In summary, the MG ZS EV Comfort is a vehicle that combines advanced technology, safety, and comfort to offer an exceptional driving experience. Its outstanding features, including LED lighting, advanced driver assistance systems, and an infotainment system, make it a standout choice for those seeking a stylish, high-performance electric vehicle.
The autonomy of the MG ZS EV with a 50.3 kWh battery
As a fully electrified automobile, the MG ZS EV has captured the attention of industry observers and enthusiasts alike with its electric powertrain taking center stage. The 50.3 kWh battery serves as the "heart" of the economically-priced ZS EV, storing energy that propels a 130 kW (177 hp) engine and generates 280 Nm of peak torque, which is primarily channeled to the front axle.
The standard-range ZS EV can traverse up to 320 km on a single charge, achieving a 0 to 100 km/h acceleration time of 8.6 seconds and reaching a top speed of 175 km/h. Moreover, it can dash from 0 to 50 km/h in just 3.6 seconds, thereby demonstrating its impressive performance. According to the WLTP cycle, the ZS EV Standard Range's range is 320 kilometers, and the onboard charger boasts a maximum power output of 6.6 kW, allowing for an efficient 40-minute recharge process from 5% to 80% capacity.
What is the cost of the most affordable MG ZS EV? A generous 5,000 euro rebate is available! Now is the time to delve into pricing. What is the price tag of the MG ZS EV edition evaluated in this article? Morris Garage is proud to offer one of the most economical electric cars on the market. The ZS EV is available at Spanish dealerships for 33,690 euros, excluding promotions or incentives. However, the new car section of Motor.es presents an incredible discount of over 5,000 euros.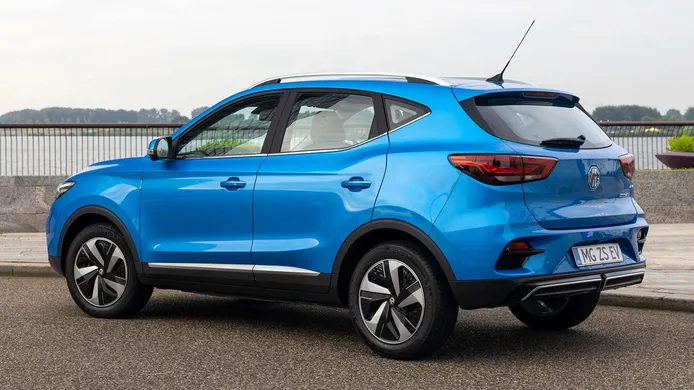 MG ZS EV Offer
This promotional deal provides a discount of up to 5,081 euros, resulting in a final purchase price of 28,609 euros if taken advantage of. It is a more cost-effective option than both the Peugeot e-208 and the Opel Corsa-e.