The Mercedes E 350 d T Avantgarde, valued at 59,976 euros, is primed for a consumption assessment. Although perceived as conventional by some, the T-model becomes an indispensable asset upon extended usage, for it boasts a capacious loading volume ranging from 640 to 1,820 liters, a considerable payload of 628 kg, and an even, two-meter-long loading area when the rear seat backrest is laid flat.
The vehicle likewise delivers an abundance of space for occupants, albeit the rear seat's slim design marginally detracts from the passengers' comfort. The handling is equally proportionate, resulting in a harmonious driving experience.
The station wagon is renowned for its optional all-around air suspension, a 1,785-euro add-on, which effortlessly copes with any surface irregularities and provides optimal travel comfort. Surprisingly, we were not anticipating the car's rear-wheel drive to expertly navigate through corners and around pylons, especially without all-wheel steering. Despite the placidity of the steering in daily usage, it endows the driver with exceptional precision when undertaking spirited cornering. As for fuel and maintenance expenditures?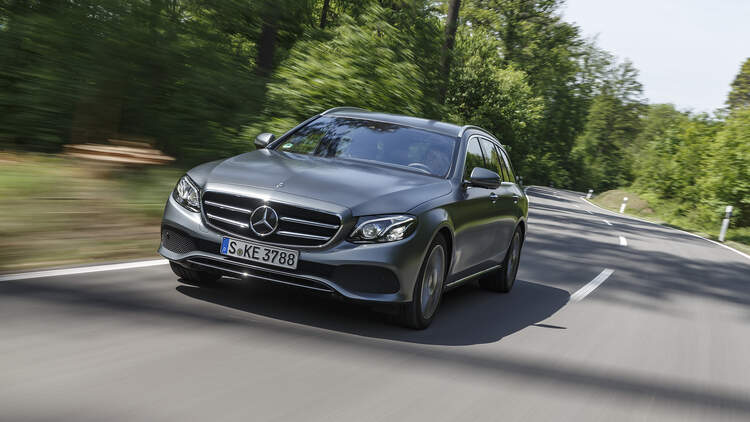 Our test consumption
Mercedes endows the E 350 d T avant-garde with a WLTP (Worldwide Harmonized Light Vehicle Test Procedure) standard consumption of 6.4 liters of diesel, which ostensibly belies its practical fuel usage. Our empirical investigations report an average consumption of 7.8 liters in regular usage, necessitating fuel expenses of 11.86 euros per 100 kilometers. The eco lap showcases a modest fuel consumption of 5.8 liters while the commuter route accentuates a marginally higher consumption of 7.9 liters. If subjected to a more spirited driving approach, the fuel consumption catapults to 9.3 liters. Our computations factor in the up-to-the-minute fuel prices updated daily on our affiliate portal, mehr-tanken.de (04/24/2023 / diesel: 1.52 euros/litre).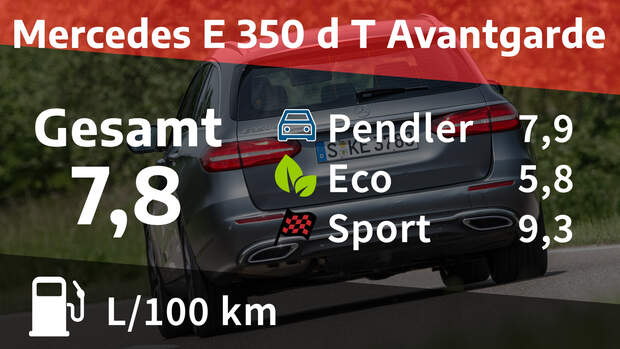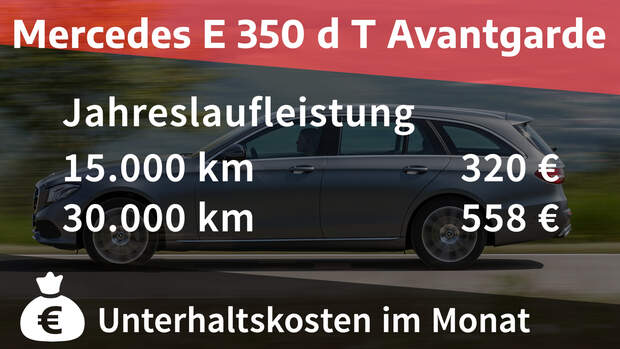 This is how it is tested
The Tracednews test consumption incorporates a trifecta of distinctively weighted consumption runs. The "commuter consumption," which accounts for 70 percent, entails a 21-kilometer journey from home to work. A frugal 275-kilometer eco-lap is integrated into the assessment with a 15 percent weightage. The remaining 15 percent is contributed by the sports driver lap, which has a comparable length as the eco-lap but involves a more substantial portion of the motorway, leading to higher speeds on average. The computation of fuel expenses is based on the price mentioned on the "more taken" portal on the day of the article's inception.
The monthly maintenance costs, including wear part expenses and vehicle taxes, are calculated based on the test consumption, an anticipated annual mileage of 15,000 and 30,000 kilometers without depreciation. The computation is founded on a three-year holding period, liability in no-claims class SF12, and comprehensive insurance with Allianz, which incorporates discounts for garage parkers and the restriction to certain drivers (not under 21). At Allianz, SF12 offers a discount rate of 34 percent for liability and 28 percent for comprehensive insurance.
In conclusion, the Mercedes E 350 d T Avantgarde, priced at 59,976 euros, exhibited an average value of 7.8 liters of diesel per 100 kilometers in the test consumption. Consequently, the fuel costs for this distance amount to 11.86 euros. The monthly maintenance costs are 320 euros (15,000 km annual mileage) or 558 euros (30,000 km annual mileage).
Technical specifications
| | |
| --- | --- |
| | Mercedes E 350 d T |
| Basic price | €59,262 |
| External dimensions | 4933x1852x1475mm |
| Trunk volume | 640 to 1820L |
| Displacement/engine | 2925 cm³ / 6 cylinder |
| Performance | 210 kW / 286 hp at 3400 rpm |
| Top speed | 250km/h |
| 0-100km/h | 6.1s |
| Consumption | 5.4L/100km |
| Test consumption | 7.8L/100km |