The Mercedes-AMG G 63 Facelift 2024 has recently been observed undergoing testing in southern Europe. This highly anticipated SUV from the renowned Mercedes brand has not been previously seen during winter tests, but now it is accelerating its extensive development process in preparation for its launch as one of the notable releases early next year.
Mercedes is concurrently working on the development of both the new EQG electric model and the facelift of its corresponding combustion engine variant. The Mercedes-AMG G 63 Facelift 2024 has reappeared in intense testing sessions in southern Europe, after a significant period of absence and without having made an appearance during winter tests that took place in the snowy and icy conditions of the Scandinavian peninsula.
This development process is taking considerable time, making use of the temporary halt in orders for the current Mercedes G-Class at the Austrian Magna factory in Graz. The temporary halt is due to the high demand from customers, allowing the factory to transition smoothly to producing the new EQG model. Meanwhile, the time is being utilized to complete the designated program for the Mercedes-AMG G 63, often regarded as the epitome of high-performance SUVs. The spy photos depicted in this article showcase the vehicle nearing the end of its production cycle, making it the final iteration for significant reasons.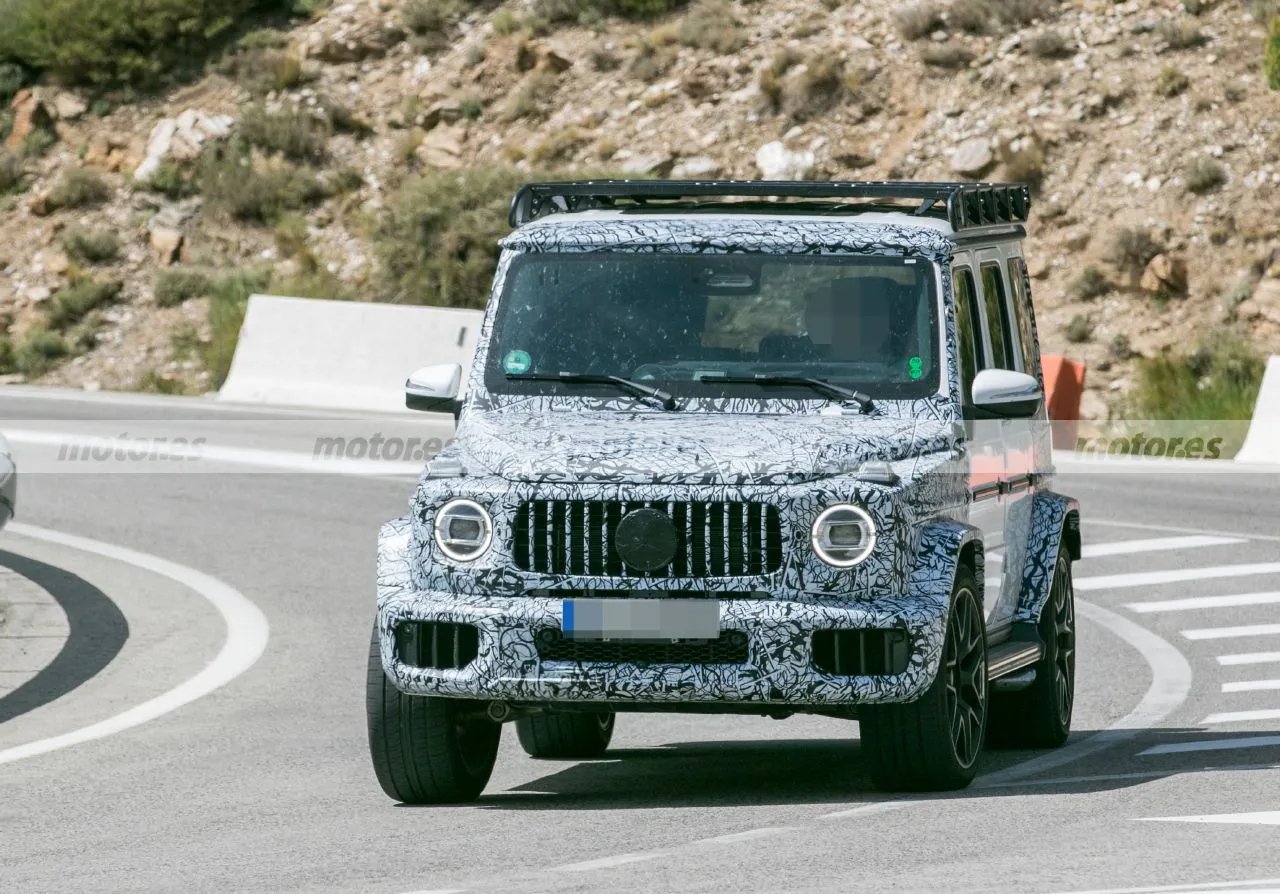 The spy photos of the Mercedes-AMG G 63 Facelift 2024 reveal some noteworthy updates to the flagship model of the Mercedes G-Class lineup. In comparison to previous sightings, this latest prototype displays additional camouflage, signifying further development. Notably, a significant change is observed in the exhaust outlets of the vehicle.
In a previous test unit, the two distinctive side exhausts were merged into a single outlet with a dedicated termination tube for emissions testing purposes. This alteration deviated from the typical design characteristic of the model, where the exhaust peeks out from under the rear door. However, the latest prototype has reverted to its original configuration, featuring two exhaust tubes with corresponding terminals, complete with their trims.
The accompanying images showcase the G 63 Facelift's prominent dashboard screen, reminiscent of those found in passenger cars. This large screen incorporates the MBUX interface, which offers a touch-based control system within the multimedia setup.
Overall, these spy photos offer a glimpse into the evolving design and features of the Mercedes-AMG G 63 Facelift 2024, highlighting changes to the exhaust system and the inclusion of an advanced multimedia interface.