It's not a car, it's a fearsome racing car: these are the details of this car capable of unleashing incredible power on the road.
Designed, built and launched in the market 2020 Maserati Corse (MC), everyone's dream car, just got better. Are you wondering how this is possible? As often happens with luxury cars, there is a hand in "Mansory", a German company specializing in the development of high-performance cars and SUVs.
Mansory took the Maserati house car and made a new one"body kits" even more innovative, also modifying the engine to produce more power. And here it is closed MC20 Mansory "First Edition": who knows if it is a prerequisite for other new releases that we may be aware of in the future.
At the same time, through the pictures we can enjoy this amazing car with unimaginable performance. The details make a strong impression. Starting with the engine: with Mansory improvements, the 3-liter twin-turbo V6 offers up to 720 horsepower and 850 Nm of torque. Amazing numbers!
The speed is that of a high-speed fireball: 330 km/h top speed and acceleration from 0 to 100 km/h in 2.7 seconds. Regarding the "body kit", or rather the technical characteristics of the mechanics and bodywork, carbon fiber ensures a reduction in the overall weight of the redesigned MC20.
Details of the Mansory MC20 First Edition: a real upgrade
Rear wing made by Mansory is also a real gem and transforms a road sports car into something very close to a racing car. Then there is a new one transmitter the back which is in perfect harmony with the front, modified in its aerodynamics.
The alloy wheels are truly amazing and they were branded by the same German company with the "Mansory FV.5" logo: inserted in front of the bright yellow brake pads, they are made with 10 spokes of 21 inches (front) and 22 inches (rear). And engine sound? This one unfortunately can't be heard through our pictures or description, but it has 4 tailpipes drawing a crazy exhaust system. Very strong.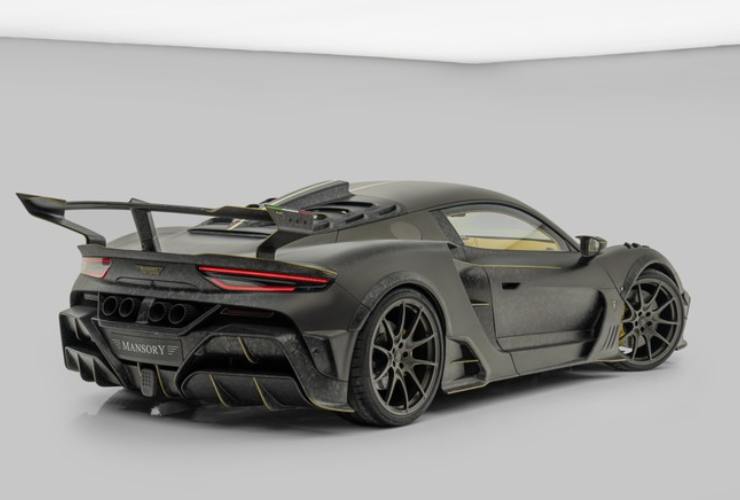 Finally, the renovation also affected the interior. Mansory First Edition is proud sports seats in white and yellow, but there are also the colors of the Italian flag centered on the seats. The upholstery of the passenger compartment always takes yellow alternating with black and white. And if you think about price…not officially revealed by Mansory. MC20, in any case, is evaluated by experts at least 235,000 euros.