Jaguar's updated large SUV is available in petrol, diesel, hybrid and Plug-in Hybrid versions, with five trim levels.
THE Jaguar it was submitted 2 and a half months ago A facelifted F-Pace that has a range of refreshed engines and enhanced equipment comfort and safety.
The changes Jaguar's flagship SUV has undergone are minor and targeted. The main one in the series it refers to the rechargeable hybrid version of the P400e which now has a larger battery pack with a capacity of 19.2 kWh which also increases the electric range of the version to 65 km. The combined output of the P400e version is 404 hp and 640 Nm, which means that it also offers a very powerful performance (0-100 km / h in 5.3 seconds).
All potential buyers of the facelifted F-Pace benefit from a streamlined model range. Actually, now only R-Dynamic versions are offered which also have improved specifications. The R-Dynamic S, SE and HSE versions are fitted with 19-, 20- and 21-inch wheels respectively, while the 400 SPORT version now has 22-inch forged wheels.
Beautifully, the refreshed F-Pace has a more stable presentation that has been enhanced with the new Black Pack which is standard equipment on R-Dynamic SE versions up to and including the SVR. Another minor change is the mask badge which has a new color.
Inside, the R-Dynamic S version gets a new digital instrument panel, offering two-way configuration and a choice of media or navigation, while wireless cell phone charging is standard on the R-Dynamic SE. All versions have a quick feature Pivi Pro entertainment systemwhich provides greater connectivity.
The new F-Pace MY' 2024 includes offers: R-Dynamic S, R-Dynamic SE, R-Dynamic HSE, 400 SPORT and SVR. The F-Pace SVR is the top version and has a 5.0 liter V8 petrol engine with 550 and 575 bhp which accelerates from standstill to 100km/h in 4.0 seconds. with a maximum speed of 286 km / h.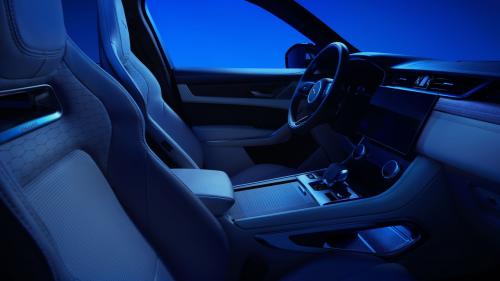 The engine range also includes a four-cylinder petrol with 250 hp, 163 hp and 204 hp four-cylinder diesel with mild hybrid drive systema 300hp six-cylinder diesel, a 400hp six-cylinder diesel and a 400hp six-cylinder MHEV petrol. All versions have four-wheel drive and an eight-speed automatic transmission.
THE The starting price of the range is set at 65,934 euros for the diesel versions, from 82,866 euros for the petrol ones and from 81,960 euros for the rechargeable hybrid.
2.0 Diesel MHEV 163 PS Auto AWD R-Dynamic S: 65,934 euros
2.0 Diesel MHEV 204 PS Auto AWD R-Dynamic S: 70,632 euros
2.0 Diesel MHEV 204 PS Auto AWD R-Dynamic SE: 75,580 euros
2.0 Diesel MHEV 204 PS Auto AWD R-Dynamic HSE: 81,472 euros
2.0 Diesel MHEV 300 PS Auto AWD R-Dynamic SE: 85,809 euros
2.0 Diesel MHEV 300 PS Auto AWD R-Dynamic HSE: 90,566 euros
2.0 Petrol 250 PS Auto AWD R-Dynamic S: 82,866 euros
2.0 Petrol 250 PS Auto AWD R-Dynamic SE: 88,609 euros
2.0 Petrol 250 PS Auto AWD R-Dynamic HSE: 95,466 euros
3.0 Petrol MHEV 400 PS Auto AWD Sport: 102,439 euros
5.0 Petrol 550 PS Auto AWD SVR: 142,722 euros
5.0 Petrol 575 PS Auto AWD SVR: 144,916 euros
2.0 Petrol PHEV 404 PS Auto AWD R-Dynamic S: 81,960 euros
2.0 Petrol PHEV 404 PS Auto AWD R-Dynamic SE: 86,288 euros
2.0 Petrol PHEV 404 PS Auto AWD R-Dynamic HSE: 90,733 euros