Shall we go for a walk around Uherské Hradiště on Tuesday evening? When it became clear that football Sparta could celebrate winning the championship there in the playoff round, which we as its fans had been waiting for for nine years, it was clear that we had to go. The only catch is that it is a good three hundred kilometers by road from Prague. We expected the hour-long drive to be the most painful part of the entire trip. But seeing the celebrations of Sparta's name, we were ready to bite. Then, luckily, we thought that we would not have to drive around D1 in a regular car, and rented a Lexus LC 500. And more than six hundred kilometers behind the wheel turned out to be a wonderful pleasure.
I won't lie. I love cars and in recent years I have driven several of the latest cars, mostly electric. But I'm not a huge automotive expert who knows every technical detail and knows about all the models coming off the production lines. And so I confess that I was not very impressed with the first beautiful luxury coupe from Lexus. I didn't know what to expect from him. Whatever I might have expected, I'm sure I didn't expect that about six hours of driving and a couple of hours of rest (however full of joy and headbanging) would be so much fun that I wouldn't even be tired after that. Although we returned to Prague at two o'clock in the morning.
Perhaps best of all, the Lexus LC 500 isn't a hot new product. It has been on the road for several years with little change, but it has a timeless look and driving characteristics that are second to none. At the same time, not every Lexus is right for me. The Japanese have their own unique style that isn't for everyone, but the LC 500 works well for me. From the outside, it's an attractive sports coupe that many people turn to, and when you sit in it, you don't want to get out. Sometimes also because you are sitting very low, so it can hurt a bit. But that's a perfectly reasonable tax for what you get.
I'm not the one who needs to have a roaring internal combustion engine with the craziest parameters under the hood. Behind the wheel of the "elcéčka", however, I could understand that some people cannot imagine that one day those engines should be taken from them and forced to drive electric cars without expression. I myself have tried a lot of electric cars in recent years, which I usually enjoy, but the atmosphere of a five-liter V8 is something that an electric car will never give you. You will enjoy when you start and feel it for the first time or when you shift even at higher speeds, because you have a ten-speed gearbox at your disposal.
Driving the Lexus LC 500 is addictive
To give some numbers, the eight-cylinder Lexus LC 500 delivers 464 hp (341 kW) and 530 Nm. In the last revision of the European roads, when a solid particle filter was added, it lost thirteen horses and 10 Nm, but it also gave a few kilograms and does not reduce the driving experience in any way. On paper, this coupe accelerates from zero to 100 km/h in 4.7 seconds and has a top speed of 270 km/h. The first figure is valid, the second figure may still slightly underestimate the high performance of the car. But LC 500 is not about top speed or any record.
Although one of the most expensive Lexuses is a sports car, you will not feel much pain in it, even driving endlessly on the highway of Prague, which we had to do on the way to Uherské Hradiště, before we arrived. D1 highway. It's actually an all-rounder that's sometimes hard to believe, and the LC 500 is comfortable to drive in almost all conditions.
This is also supported by very precise and sensitive steering, including a guided rear axle. And even though you're riding twenty-one-inch wheels, the smooth chassis is forgiving. When you wonder if it shouldn't be more difficult in the highest driving mode, Sport+, which you can select traditionally with the rotary lever on the top right behind the steering wheel.
In terms of comfort, it is also necessary to mention the excellent noise reduction, although in the case of the Lexus LC 500, sometimes you may want to hear the expression of its eight-cylinder engine more desired. When it smokes at high speed, it is very addictive. The solution may be to buy an LC CV model, ie a convertible with a removable roof.
In any case, in both variants, the flagship coupe of the Japanese chief engineers is a unique car thanks to its curves, because it is unlikely to meet such a car on the road. For example, few car manufacturers have won with lights like this.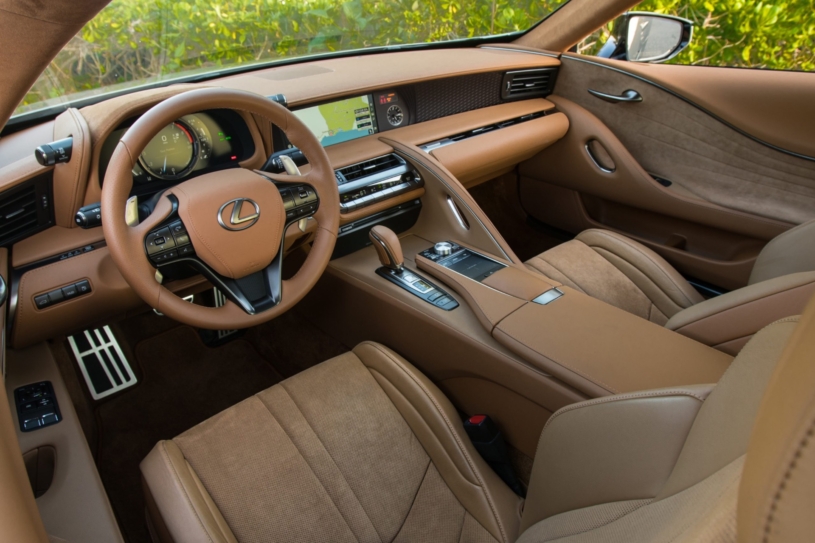 Lexus LC 500 precision interior
And if we are talking about luxury, just stay at "elcečka". In the large rear-view mirrors, you will first see the wide sides, which also give the car character, and when you look forward, thanks to the small windshield and the long hood, you feel like you are in a spaceship. . The interior itself will put a smile on your face, especially with the quality of materials and workmanship. It fits everything, it doesn't throw anything anywhere. And although it may seem like that at first glance, all the controls are very simple. Of course, those familiar with Lexus will feel right at home.
If I had to look for any negatives, I would definitely look for the outdated information and touchpad control on the center panel. I have not been satisfied with Lexus for a long time. As I'm not alone, the new generation LC 500 already comes with a touchscreen, but what surprised me the most while driving was the fact that I didn't really care for the incomplete infotainment. The fact that it is possible to connect an iPhone via CarPlay is largely responsible for this.
With other cars I often fiddle with everything the buttons and especially the bigger touchscreens give me, with a Japanese coupe you're really interested in the car and you just don't care about keeping the clock ticking and having fun. So when we left Uherské Hradiště at around 5pm, where Sparta celebrated winning the coveted title thanks to a draw with hosts 1. FC Slovácko, I looked forward to the three-hour journey home. At the same time, I could not imagine such a situation just a few days ago.
The Lexus LC 500 has two seats in the back, but I would like to say that we only drove two cars, because practically no one can sit comfortably or even comfortably in the back. You can't put much more in the trunk than a jersey and a scarf, but that's not all this coupe is about.