Henry Kissinger Interview with Oriana A lie of 1972was described as "the worst decision" for the greatest diplomat of the 20th century, who turned 100 on Thursday 25/5.
"It was the stupidest thing I ever did in my life," Richard Nixon's foreign policy architect had declared, regretting the interview. Let's take things from the beginning.
A visionary for those,"criminal war» to others. He was often even called "superman». He arranged paradoxical alliances, concluded impossible agreements, kept the world in suspense over many international events.
He met with Mao Zedong when he wanted, entered the Kremlin when he wanted, woke up the president of the United States and entered his office when he saw fit.
He didn't fight, he didn't jump from moving cars like James Bond, but … he advised the generals, he ended the war, he wanted to change the destiny of mankind and maybe he did.
Oriana asks for an interview and is surprised to be given the "green light" right away. Kissinger has read his article about General Giap and wishes to meet him.
So he accepts the watch November 4, 1972 in his White House office for less than an hour, where he was frequently interrupted by phone calls and urgent requests for his signature.
The interview ends earlier than expected because Kissinger has been called to a meeting with the president. After a long wait, Oriana receives word that Kissinger has left with Nixon. If he wants to continue with the interview, he will have to wait a month.
An Italian journalist refuses: "It's not worth it. What would be the point of confirming the picture that I already had in my hands? A picture consisting of conflicting lines, evasions, cautionary statements and annoying silence?'
In fact, throughout the interview, he didn't change that emotionless face, the ironic or hard look, or the tone of his sad, sad and always the same voice.
Oriana presses Kissinger on Vietnam
Oriana Fallaci's interview with Kissinger was published in "Europe» on Nov 16, 1972 Looks like the conversation turned Vietnam. Oriana wants to pressure him to admit that the withdrawal of the United States was a failure and that the war was pointless.
"And what about the Vietnam War, Dr. Kissinger?" he asks her. "I was never against the Vietnam war. How; Even before I got the position I have today…", answered the diplomat.
"But don't you think that Schlesinger is right when he says that the Vietnam war only succeeded in proving that half a million Americans with all their technology could not defeat the Vietcong?" Oriana continues.
"That is another problem, but the Vietnam war was important. Such judgments depend on the position one takes when a country is already involved in a war and all that is left is to think of a way out.

Journalist Oriana Fallaci
After all, my role was to help reduce America's involvement in the war and then end the war. In the end, history will say who did more: those who worked only to criticize, or those of us who tried to reduce participation in the war and end it?
Yes, this judgment is for generations. When a country is involved in a war it is not enough to say: it must stop. We have to finish with a criterion. And that's very different from saying that going into this war was right," Kissinger says.
But don't think, Dr. Kissinger, that it was a pointless war? "I can agree with that. But let's not forget that the reason we entered this war was to allow the South to remain South, even more… But today I have no position to judge whether the war in Vietnam was just or not, whether entering into it was beneficial . or is it meaningless. Are we still talking about Vietnam?" Kissinger concluded.
The "disaster" line.
Then the author continues with more personal questions, until at one point he asks a "merciless" question, which however was to make the interview famous, because of Kinisger's answer: So he asks him … how he explains his popularity.
At first he refuses to answer, but soon he agrees: "Especially because I have always acted alone? mine," says Kissinger, likening himself to a heroic cowboy. "Americans really like this. They want to see the cowboy pulling the train alone, with his horse, the cowboy going to the city, the village alone.…" he announces.
After being published in L'Europeo, the article was reprinted in several American newspapers and read across the United States, causing a scandal. Apparently, he had neglected the character and passion that blossomed around his every word.
It is said that Nixon was offended by the 'cowboy' metaphor.. Kissinger tries unsuccessfully to deny that he said these things, but is contradicted by Oriana, who has the relevant records. It was even rumored that Kissinger called the president, but in the end he refused to see him, until the diplomat went to find him at his residence in San Clemente. But the doors of the house remained closed to the "cowboy".

Former US President Richard Nixon (left) with Henry Kissinger (right)
Years later in his memoirs, Kissinger admits that this interview was "one of the worst decisions of his career." But Oriana is also outraged by the scope of the scandal: "Don't make me talk about Kissinger!" he will say during an interview at an American college in 1981. "I did this interview in 1972, and since then, we have both been interviewed a lot about it. If we left and got married, they wouldn't ask us until today."
His word it was also heavily criticized by the media, although the press was always portraying Kissinger and Nixon cruelly. In this case, however, both sides had changed, and every journalist condemned the concept, or at least, the incompetence of such a statement. "How can Henry Kissinger take full credit for what he accomplished as Nixon's envoy? How can he put Nixon in the position of a bystander?" they wrote.
Meanwhile, cartoons appeared in newspapers of Kissinger dressed as a cow and heading to a saloon. Others featured a photo of him wearing spurs and a hat, with the caption saying "Henry the Lonesome Cowboy."
"I don't care about fame"
"I see," Oriana continues, "you see yourself as a type of Henry Fonda (actor), unarmed and ready to fight for his honest values. Lonely, brave…
"You don't have to be brave. Really, this cowboy he doesn't have to be brave. It is enough for him to be alone. To show others that he goes into town and does everything himself. This behavior suits me because solitude has always been part of my style or, if you like, my technique," Kissinger explains.
Same with freedom. This is very important to me. In the list, finally, it is guilty. I am always convinced that I should do what I do. And people feel it, believe them. And I want them to believe me. Others believe that I carefully plan what the outcome of my plan or effort will be for the public.
They believe that such worries never leave my mind. On the contrary, the consequences of what I do, I mean public judgment, have never tormented me. I'm not looking for fame. In fact, if you really want to know, I don't give a damn about fame. I am not at all afraid of losing my audience, I can afford to speak my mind. I am referring to the reality within me.
If I had allowed myself to be disturbed by the effects of the audience, if I had only moved with a calculated approach, I would not have achieved anything", he then emphasizes.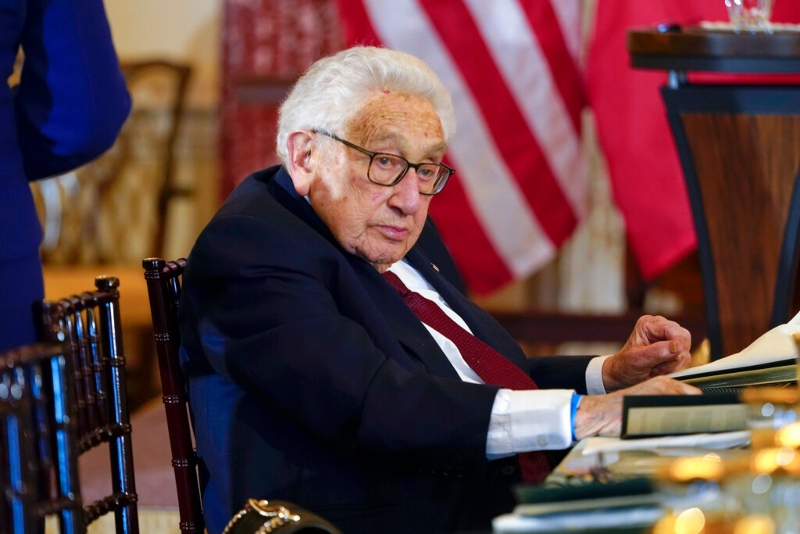 "I'll never tell you who I am"
"Dr. Kissinger, I have never interviewed anyone who avoided questions and precise explanations like you, anyone who defended himself in such a way against the attempt of others to penetrate his personality" noted Oriana, who after the conversation emerged from the public to the author of information – a sign. "Are you ashamed, Dr. Kissinger?", he asked her another time.
"Yes. Enough. But on the other hand, I think I'm very balanced. You see, there are those who portray me as a tortured, mysterious character and those who describe me as a happy boy who is always smiling. Both images are wrong. I am neither one nor the other. I… I won't tell you who I am! It's something I won't tell anyone».
It is true that one would expect nothing less in such a response from Henry Kissinger, who completed his 100th year on this planet.
{https://twitter.com/UggeriRoberto/status/1662066961868570626/photo/1}
(With information from Lithub.com)