With sports characteristics and rich equipment, the basic version of the Kia Stonic with a turbo takes another breath.
by Tryfon Alexopoulos, Photo: Nausika Vassiliadou
The Kia Stonic's commercial success story is nothing new. How can the Korean B-Suv not do well in sales, when its price remains low compared to the competition? It is one of the few models that continues to carry the name of Value for Money, offering a lot compared to the competition and, of course, what is written in its price list. This also applies to the top version of the GT-Line line, which offers richer equipment, sports features and is only married to turbocharged engines.
With signs GT–Line
The GT-Line changes the Stonic's image a bit by adding a few sporty elements to its all-round design. For example, a mask from flat and smooth is closed with a triangular structure and two silver bars inside, which follow its structure. The bumper is also sharper, with three openings instead of one-piece slits, a larger central air vent and side skirts. Due to the recent changes, the LED fog lights have been integrated into the lower part of the grille.
In addition to the front bumper, "chrome" details are also found at the back, which also has a decorative diffuser and matching tailpipes. The 17-inch diamond alloy wheels it wears are the largest available with the Stonic, but they complement the bold domes and fenders.
Inside it has more analog, rather than digital, character. Not that it lacks all the necessary technologies in its equipment, such as the 8-inch touch screen and Android Auto & Apple Car Play needed wirelessly, but mainly because of the lack of a digital instrument panel, which is now standard. Smaller crossovers. The analog, however, matches the rest of its interior and is paired with a small 4.2-inch touchscreen. Very positive, in terms of ergonomics, is the presence of physical switches for Infotainment and automatic climate control settings, which only this version has. In addition to its good ergonomics, it is also very practical and has several pockets for small and large items.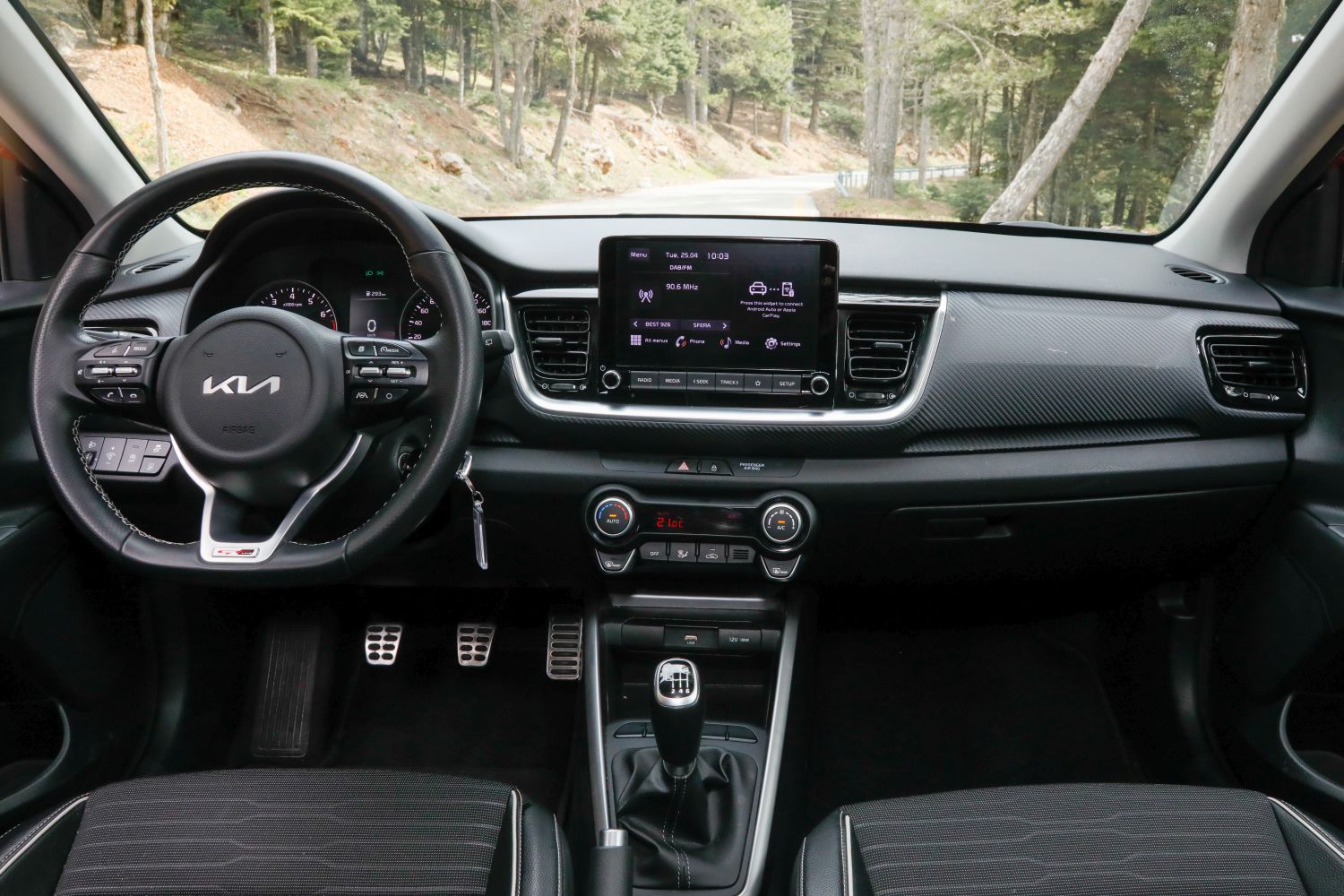 The plastics in the cabin are hard, even those on the dashboard but fit well, while the doors elsewhere are covered with a soft cover made of synthetic leather. Semi-leather is also the seats of the GT-Line version, which has aluminum materials, aluminum elements on the steering wheel and dashboard, and a hard Carbon type panel on the dashboard.
Spaces for rear passengers are adequate, even given the small dimensions. The distance from the front seats is satisfactory, as is the air for the heads, and the central tunnel is small. The cargo space at 352 liters will meet the needs of a small family. It has a good opening, case, hook and light but it has a big loading threshold and no 12V socket (only in the middle case inside).
For every use
With a length of 4.14 meters, a width of 1.76 and a turning circle of 10.4, the Stonic is particularly versatile around town. Its high position will justify the name "B-Suv" and at the same time it offers a good all-round appearance. The driving position can be adjusted easily and comfortably, without much lateral support.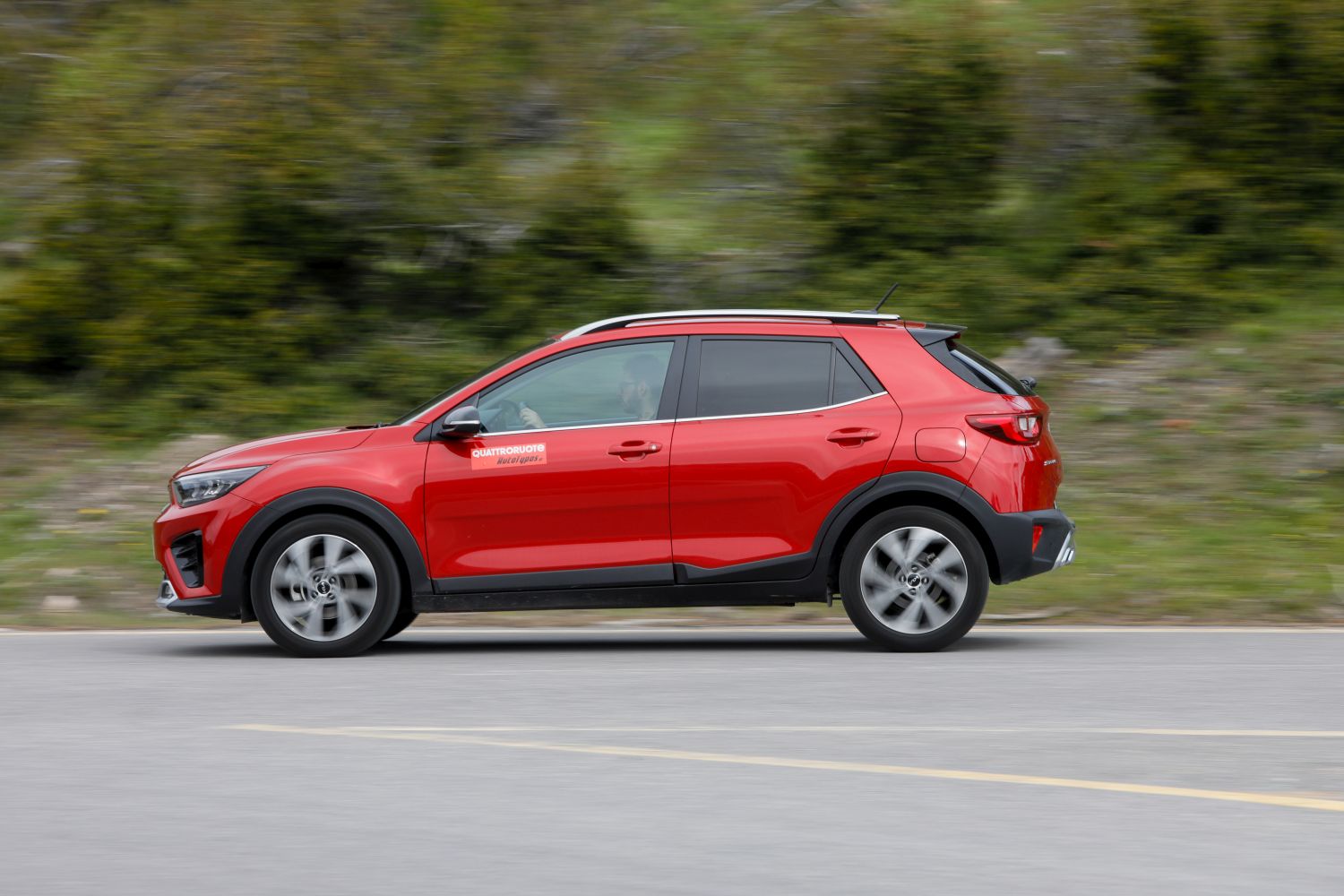 The suspension setup on the GT-Line version is stiffer than others, but the results on the road are much better. Semi-rigid will "thump" and be heard only on ramps, while the ride quality is quite good – with the only caveat being the increased noise on rough pavement. At the same time the slope of the body is very reasonable and the side of the trap is very high. The steering is balanced and accurate but loses a little in its information. The brakes are strong and have a linear feel. The gearbox has a selector that is not very clear, but not difficult, while the clutch is easy for everyone. So we are dealing with a well-planned set and although it may not be a sporty Crossover, it will provide a sense of security in driving at high speeds, with its effects being smoother and smaller.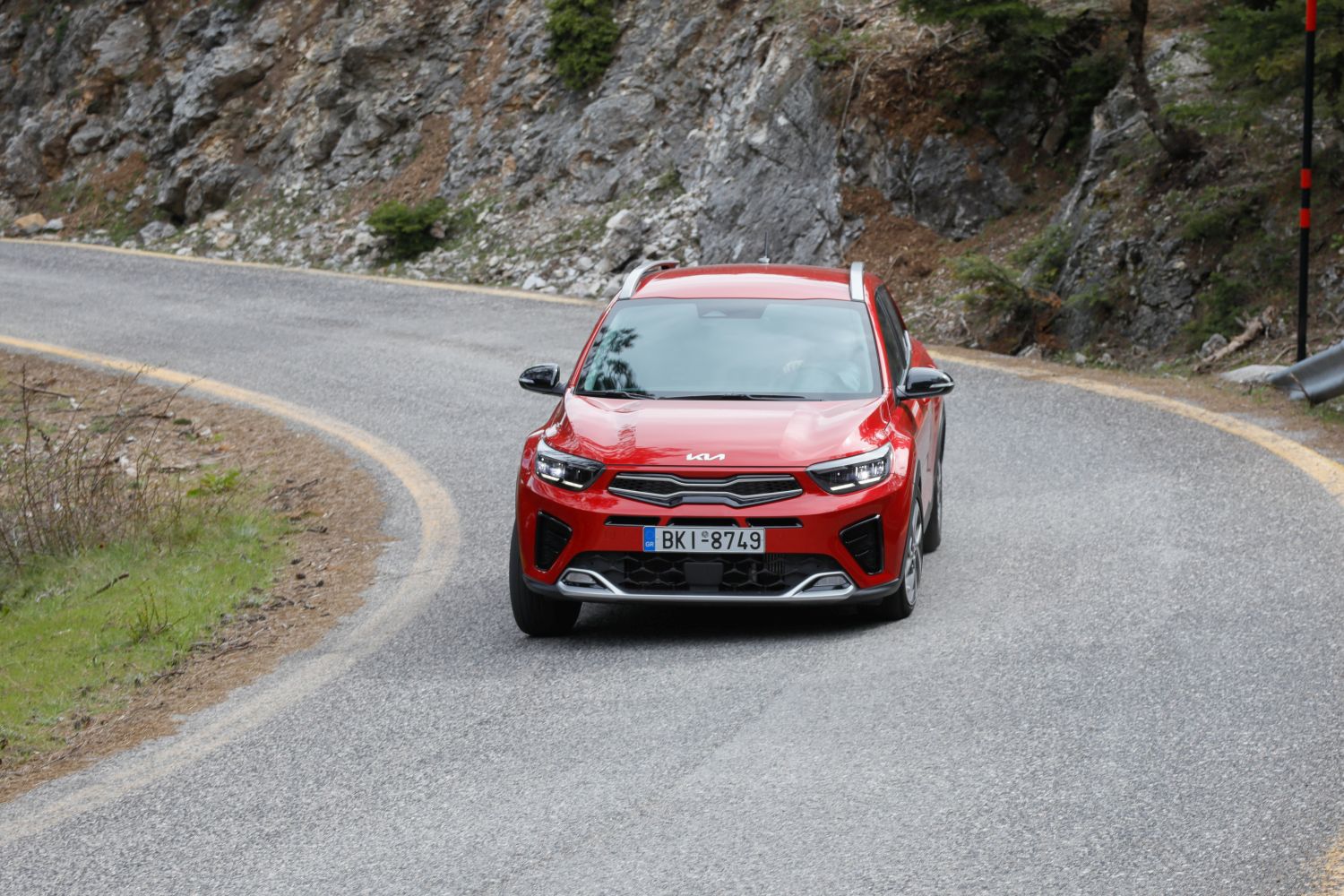 In the journey it is stable even at high speed, despite its small final, while thanks to the rich support equipment it is also completely relaxing. With its 18.3cm ground clearance, it can move comfortably on a paved dirt road or over various obstacles, and will only struggle where front-wheel drive isn't enough.
The base 1.0 liter turbocharged petrol engine makes it a pleasure to drive on all kinds of roads, without asking for too much fuel and obviously without putting the tar on the fire. It produces 100 hp from 4,500 to 6,000 rpm. and only 170 Nm of torque, which maintains speed from 1,500 to 4,000. Functionally it is smooth and strong under providing speed in the urban fabric. Overdrive will require downshifts, but it generally travels well in 6of ratio of 140. At the limits of traffic and with high ratios in the gearbox it is quite quiet, in contrast to full acceleration where the bad sound of three cylinders will pass through the cabin. However, the sound insulation is more than satisfactory, so it will not tire you on a long trip.
It will ask for less than 7 liters per 100 kilometers, which can drop to 6.3 on a trip or rise to 7.8 if the tachometer needle often 'travels' in the red.
Conclusion
Stonic apart from its VFM character, performs well in many applications. It's fun whether you're driving it around town, on a road trip or even off-road. In the GT-Line version, it offers a lot of comfort equipment and support systems, as well as a sporty design and handling characteristics. The base 1,000 turbo engine for the version is faithful for everyday use, but a hybrid version of this with the same horsepower costs 700 euros more, offering more torque, better resale value and lower consumption.
Technical Specifications Kia Stonic 1.0 100 PS GT-Line
Engine
3 cylinders in line
Turbo, direct petrol injection
998 cc capacity
Strong
Maximum power: 100 hp / 4,500-6,000 rpm
Maximum torque: 170 Nm torque 1,500-4,000 rpm
Contagion
Forward movement
6-speed manual transmission
Demonstrations
Top speed: 185 km/h
Acceleration 0-100 km/h: 10.7 sec.
Average usage
Manufacturer (WLTP): 4.9 liters/100 km
Test: 6.9 liters/100 km
CO2 emissions: 133 g/km
Save
45 liters
Body
Dimensions (length x width x height) mm: 4,140 x 1,760 x 1,520 mm
Wheelbase 2,580 mm
Weight 1,223 kg
Cargo area
352 l.
Purchase price
Base version: €22,840