The Sherman tank is one of the icons of World War II, and it was with these machines that the Americans arrived in Pilsen in May 1945. Owning such a tank is every collector's dream. Four pieces can be seen in the Czech Republic, but only one of them is mobile. Its proud owner is Pavel Rogl from the US Army's 16th Division club. He got his tank from Argentina and it took more than three years to bring it to the Czech Republic. He spent the next thousands of hours with his colleagues in the workshop. In the end, it was possible to get the tank moving and in the condition as it was done. It now heads the procession at Independence Celebrations and is the main attraction at several other events.
Pavel Rogl was interested in military technology as a young boy. "I was about eight years old and I saw a big American jeep here when I was visiting Pilsen. I immediately thought that I would like to have one one day. After a while I became very successful. I started driving it to various events and I noticed that there were many cool people around and green technology. I really liked this community and traveled with it more and more. It made me very happy and I started collecting techniques." Rogl describes his beginnings.
"We have always dreamed of a tank."
"Everyone should have a tank at home," Says Rogl with love and humor. He parked Sherman in his garage in 2018. But the road to this colossus was not easy at all. It took three and a half years just to handle the necessary paperwork and transportation from Argentina!
The medium tank of the M4 series, known as the Sherman, was put into service by the United States Army on September 5, 1941, and its production continued throughout the war. It got its battle name after the famous American Civil War general and later Chief of Staff of the United States Army, William T. Sherman.
"It was a struggle and a strange murder. The ministries cooperated on it, the American side as the country of origin also had to agree with it, and so on," describes Rogl's painful journey of his dream tank. In addition to the important administration, the transport itself was also difficult. The 32-ton machine was loaded onto the ship with a 70-ton crane. There was a big problem with customs clearance, because even such an old tank is considered military material in Argentina, while in Europe everything produced before 1946 is not, and therefore no firearms license is required. "I approached 40 transporters and no one wanted to take the tank. I kicked one who was taking me to the Grande Nigeria. When the German customs officials in Hamburg found out that there was a tank on the ship, they ordered a general search of his ship, which lasted two days. " he remembered.
The tank arrived in the Czech Republic in May 2018, photo: archive of Pavel Rogl.
"Now it has arrived and we hope it will please us for a long time to come. He first started a year after being with us. The drives had to be done, we had to take the whole engine out, take it apart and put it back together. Initially, it was finished on the outside, but inside there was only the driver's seat. But we were able to fill it quickly. Now it is as it was made, the Chrysler M4A4 in 1943." explains Rogl. You can view the entire renovation process in the photo gallery social networks military history club.
The crew of the tank was five. The driver and assistant/machine gunner sat in the hall, the commander, gunner and loader sat in the turret. "If I drive? That's how I play. One time I'm driving, the other time I'm on the tower. There are two of us. I also exchange with our technician Jan Šulec, whom we call Jelly. We are very grateful to him and he is one of the most skilled tank technicians in Europe. There's no one else driving it, just the two of us." He says.
American soldiers of the 16th Armored Division arrived in the center of Pilsen on the morning of May 6, 1945 at 8:15 am. Although the city was peaceful at the time, it was far from over. The German army could not give up easily. After the arrival of the Americans, Pilsen experienced …
This tank did not participate in the liberation of Pilsen. It was originally used to train the US Army. After the Americans transferred supplies to the Allies during the war, they fell into British hands. "They converted it to a Firefly during the war and gave it different cannons and equipment. So it survived the war in Europe in this design and ended up in the Belgian army. Sometime in the 1960s Argentina bought it and rebuilt it in a newer style and gave it a gun of 105mm. Argentina thought it would go to war with Chile, but in the end it didn't happen and the tank remained in the camp. He got old, then he stopped somewhere in the field." describes the collector.
Veteran George Thompson: If I'm going to die somewhere, it's in a tank on the expedition to Klatovská.
In recent years, the tank can be seen by visitors at the Freedom Festival in Pilsen. Crowds take pictures with him, for example, in Křižíkov Sady, where there are also period camps. The highlight of the festival is the spectacular military parade, when hundreds of historical vehicles pass through Klatovská třída. Sherman drives at the head of the convoy. Last year, ninety-seven-year-old George Thompson even waved to thousands of people from a tank tower. However, this year's festivities were devoid of veterans.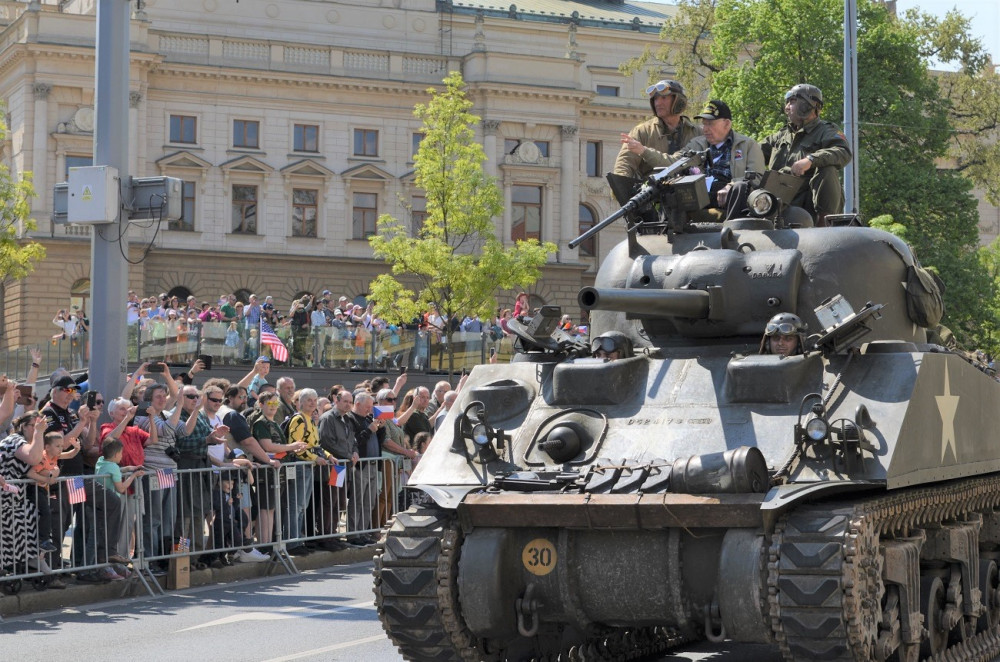 War veteran George Thompson had his biggest wish come true last year.
"Even before we had our Sherman, we were borrowing Jackson and Stuart tanks from the Military Historical Institute. George Thompson usually drove the jeep in the convoy, but he saw that we had a tank and expressed interest if he could ride a tank in the convoy that. Basically, the whole thing was his idea." Rogl revealed. However, the Thompson family was afraid, and the city administrators were also embarrassed by this.
"However, he sat down and wrote an open letter. It said that if he died at Klatovské on the expedition, it was the best death he could wish for. In fact, he told everyone to do whatever they wanted, that he would just ride the tank. Of course we tried to treat it, we put together a chair and built a ladder and so on. We did our best to make sure nothing happened. He was excited about it and was looking forward to Sherman, who sat out last year. You had to wait because of covid. He will celebrate his ninety-ninth birthday this year, and we wish him, above all, good health" added Rogl. It was George Thompson who served with the 16th Armored Division after whom the hobby club was named. In honor of the war veteran, they even named the tank after him.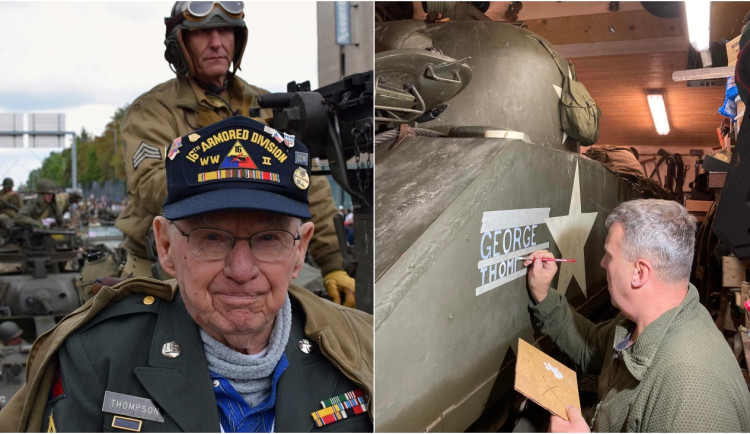 Pilsen is my second home, war veteran George Thompson likes to say, who together with his fellow soldiers liberated Nýřany in May 1945 and continued towards the West Bohemian capital. Thompson regularly attends Independence Day celebrations and…
"I've been going to the Freedom Festival for about 18 years. We've been traveling with equipment in the caravan for about 15 years, and we've been at the front of the caravan for ten years. We're a big group of people. This year there were about 160 of us on party, along with about fifty pieces of technology. For example, we brought Greyhound M8 armored vehicles, half tracks, a Ward LaFrance heavy duty rescue vehicle, as well as Harley Davidson motorcycles and many amazing Jeeps and Dodge vehicles. the piece of military equipment that the Americans used the most. The star, of course, is the tank," listed by the collector.
"There are not many good and true clubs."
Rogl is also the captain of the club 16th Armored Division of the United States Army. This military history club has about forty permanent members. In large events such as festivals, they collaborate with other participants. "In the clubs, we are a little divided into people like actors again, which are enthusiasts who try to do everything in reality. For example, their cars do not have outdated equipment, there are no flags, and they walk in period clothes, as it should be. The second group they are jeepers, who have nice cars, but they drive secretly and are like tramps." approximately Rogl.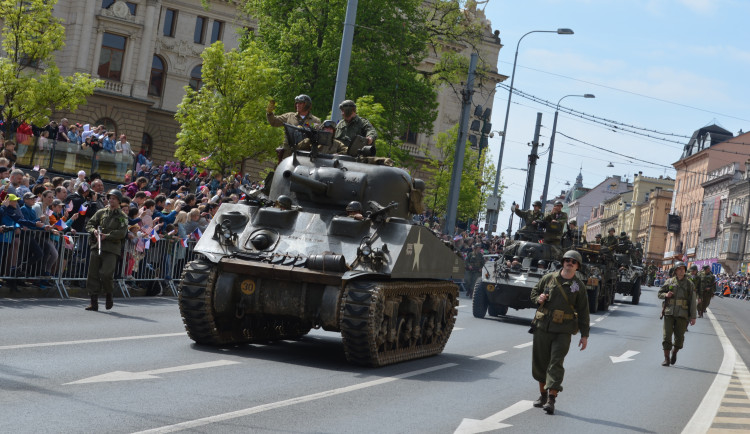 This year's Independence Day celebrations, which are among the largest domestic events to celebrate the end of World War II, culminated in a spectacular parade. Thousands of people with Czech, American and Belgian flags lined Klatovská třída, where…
"There are not many good period clubs in our country. If I had to name a few, it would be the KVH Tommy & Yankee Military History Club, which presented a field hospital at the ceremony. We also have the paragons commanded by Jan Kostečka, then there is the 26th Infantry Division or the 4th Armored Division from Pelhřimov. I could still get some, but there really aren't many people who do it properly and authentically." he thinks.
"Finding the technology is difficult, the price is ridiculous."
The very first Rogl vehicle came from Switzerland, where it served the needs of firefighters. Little by little, he and his colleague rebuilt it into a battle car and returned it to the condition in which it was made. The vast majority of technology comes from private collectors around the world.
"Since I'm already in that community, I also have cars from people from the Czech Republic who maybe didn't want them anymore. Most of them are from abroad. The tank is from Argentina, the half-track is from Holland, we have a jeep from Italy, Diamond is also from Italy , something is from Belgium or France. When I'm looking for something, I want it to be as perfect as possible. It can be old, rusty and immovable, but we care about the perfection of those accessories like bells, lamps and other trinkets. These original products are the most expensive products add to cart," emphasizes Rogl.
According to him, these days it is already very difficult to get the technology and the prices are also reaching ridiculous heights. "In the past, this technology could also be obtained directly from the army, but that time has passed. Today it all comes from private owners. I only have one JMC from the Italian museum that ended. As a club, we still have a place to put technique," Pavel Rogl concluded.