JAKARTA, Carvaganza – Previously, we presented a list of electric cars on the Indonesian market, which fill the standard or medium segment. Beyond both, there are a number of other options that users may have, with some preferences.
The choice of electric vehicles is increasing in the Indonesian market. It offers many benefits, from more qualified performance, better usability to being friendly to government regulations. Here are models that can be purchased, including those that fill the premium class.
Hyundai Kona EV
Hyundai is not only presenting the Ioniq 5, another model, which is the Kona EV, has also been presented. Where it has only one AT Signature variant priced at IDR 750 million. The price includes an 8-year battery warranty and 5-year maintenance.
By design he is close to a typical model. Hyundai had sold a petrol-drinking version of the Kona. The features are very adequate, especially from a security point of view. Standard equipment includes ABS, EBD, ESC and hill start assist control. For sensor users, there is forward collision avoidance assist and collision avoidance assist. There's still rear collision avoidance assist, lane keeping assist, lane keeping assist, high beam assist, driver attention warning, as well as lane departure warning, rear cross-traffic alert.
Also Read: Choice of Electric Cars in Indonesia, From Cheap to High (Sec. 1)
Users can also monitor tire pressure through the tire pressure monitoring system. Ease of parking is aided by parking distance warning and a rear camera. Passive safety features in the form of qualified airbags because there are many of them, they are front, sides and pillars.
As for performance, the Kona EV uses a permanent magnet synchronous motor that produces 134 hp and 395 Nm of torque. From zero to 100 km / h takes 9.9 seconds. All power is transmitted through a single reduction gear transmission. It is powered by a lithium ion polymer battery with a capacity of 39.2 kWh that allows it to travel up to 345 km. The charging process takes 1 hour to reach 80% with fast charging. Hyundai also allows frequent charging with a wall box or portable charger.
Lexus UX 300e
Lexus is not left behind, its main electric model is the UX 300e which is priced at IDR 1.2 billion. The design is definitely classy with the classic Lexus spindle grille. The lighting industry uses a 3-LED projector model with horizontal horizontal line backlights. Not only the design, the functionality is taken into account thanks to the power back door and the kick sensor function.
The luxury style also covers the interior. Drivers are spoiled for choice with the Digital Optitron Tachometer and Head-Up Display. The traditional transmission lever was replaced with an Electronic Drive Selector that was inspired by the Lexus LC. The comfort side is supported by a 10.3-inch head unit connected to the 13-speaker Mark Levinson Sound System. It can also be easily connected to smartphones via Apple CarPlay and Android Auto.
The mechanical heart uses an engine that produces 201 hp and 300 Nm of torque. It is powered by a 54.3 kWh battery that can drive up to 300 km. Flexible charging. When you use home electricity it takes less than 24 hours with a standard outlet. At the same time, the use of the wall charger is about 5 to 6 hours. Meanwhile, in the SPKLU, which uses DC fast charging, it takes only 50 minutes to be full.
The perfection of the Lexus UX 300e deserves attention. Safety sensors for users are available such as Blind Spot Monitor and All-round Parking Sensors. Additionally, there is the Lexus+ Safety System. Namely active safety technology developed to assist drivers, which has four main components, namely: Pre-Collision System (PCS), Dynamic Radar Cruise Control (DRCC), Lane Departure Alert (LDA) including Beam System Adaptive Advanced (AHS). Other equipment such as the Panoramic View Monitor makes it easier to park or drive on narrow roads.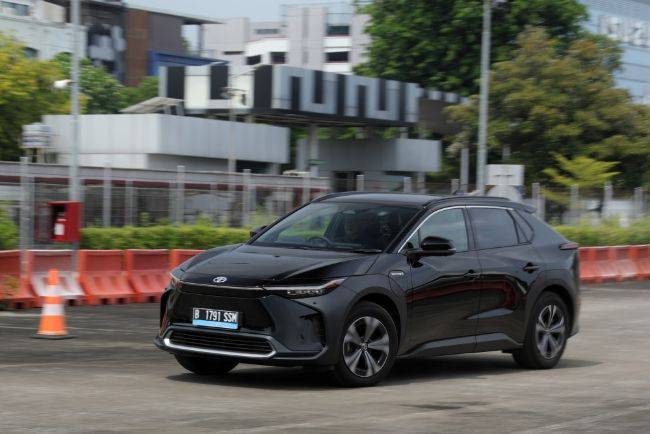 Toyota bZ4X
Toyota responded to the demand for electric vehicles in Indonesia by introducing the bZ4X crossover. The name is unique and has a tag of IDR 1.190 billion. He is also included in Toyota's premium line. The design is also very attractive with a futuristic feel.
It uses a front wheel drive system. There is actually a full-wheel version, but it's not sold here. Behind the body is a 201 hp electric motor with 266 Nm of torque. The ability to accelerate from zero to 100 km / h in 7.5 seconds. The unit is connected to a battery that is placed on the floor, lithium-ion of 71.4 kWh. Such capacity can carry the car up to 500 km. The flexible charging time ranges from 9 hours for slow charging and 30 minutes to 80% for fast charging.
The embedded features are also modern. The interior is like the cockpit of a space flight and the instrument panel is placed slightly higher than the dashboard and is fully digital. Then a floating style head unit. In terms of safety, there is Toyota Safety Sense 3.0 which includes Adaptive Cruise Control, Lane Departure Warning, Pre Collision System, Rear Cross Traffic Alert, Auto High Beam. Even cooler because there is a High Parking that allows direct parking. The device makes the bZ4X the first electric car to have one.
Also Read: Get a Closer Look at the Honda CR-V PHEV in Shanghai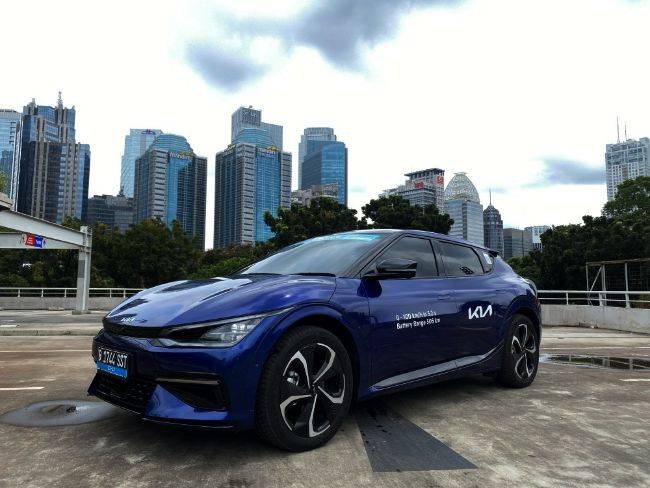 Kia EV6
Priced at IDR 1.299 billion, the Kia EV6 certainly raises questions. How good are electric cars that cost more than the Lexus UX 300e and Toyota bZ4X. The car which has only one variant, i.e. GT-Line, is built on the latest New Electric Global Modular Platform (E-GMP) from Hyundai Motor Group. Focusing entirely on the development of electric vehicles.
Kitchen spur in the form of two motors driving all wheels. According to the data, it produces 319 hp and a maximum torque of 605 Nm. The results are absolutely amazing. The benefits don't end there, he can travel up to 506 km thanks to the 77.4 kWh battery. Battery charging time takes 7 hours when using a wall charger with AC current, 11 kW power. Using DC Fast Charging with 50 kW of power, it takes only 73 minutes from 10 to 80 percent. It can even be charged via DC Ultra-fast Charging with a power of more than 200 kW in 18 minutes. The batteries can also be used as a power source for home appliances thanks to the V2L (Vehicle Loading) feature with a power of 3.6 kW.
Advanced Driver Assistance Systems (ADAS) are of course installed. Here are the details, Forward Collision Avoidance Assist (FCA), Lane Keeping Assist (LFA), Lane Keeping Assist (LKA), Cruise Control (SCC) and Auto Stop & Go. Additional Blind Spot Collision Avoidance Assist (BCA), Blind Spot View Monitor (BVM), Rear Collision Avoidance Assist (RCCA), Driver Attention Warning (DAW), and High Beam Assist (HBA) . If the Toyota bZ4X has automatic parking, the Kia EV6 GT-Line is equipped with Smart Parking Assist (RSPA). The function is similar but depends on the remote control. A number of premium features are also fitted, such as ventilated and heated seats, a 14-speaker Meridian integrated headset and a large sunroof.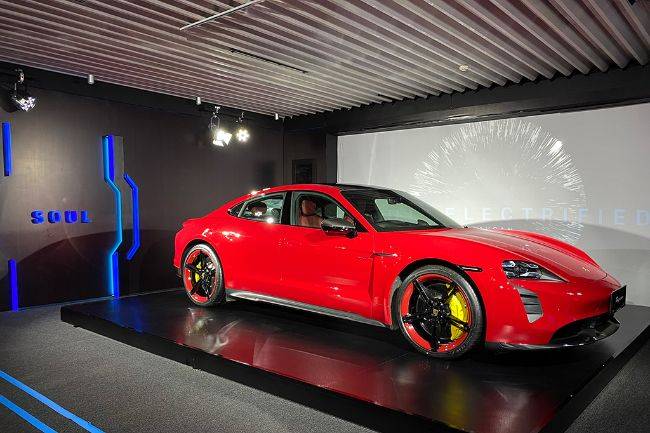 Porsche Taycan
Entering the premium segment, Porsche brought the Taycan. Sports cars are sold from IDR 2.5 billion to IDR 6 billion. The value is determined based on the variant selected and the customization provided. The Taycan itself has 4S, Turbo and Turbo S variants.
The device currently available is the Turbo S with a 93.4 kWh battery. Although it has a lot of power, it can only travel up to 390 to 416 km. Because the use of electricity is performance considering this is a sports car. The electric motor installed on the sheet provides 631 hp and 940 Nm of torque. Powered by a two-speed all-wheel drive transmission, it is given a Launch Control feature that boosts torque to 1,050 Nm.
The distinctive Porsche design is very bright on the outside, although it is still given a modern electric touch. While in the cabin, convenience equipment is displayed in the form of three entertainment screens. Two 12.3-inch screens on the center console to display satellite radio, navigation and smartphone connectivity on Apple CarPlay. At the same time, the screen on the center console measures 10 inches, it shows several settings related to the details of the car such as air conditioning to information about the battery power being used. There are almost no physical buttons because everything is operated via the touch screen and can be commanded with the voice command "Hey Porsche".
Those high prices certainly won't leave out the safety features. It is equipped with several driver assistance features such as Cruise Control, Blind Spot Monitoring, Lane Departure Warning, automatic braking with embedded Forward Collision Warning. Including Porsche Stability Management on the Porsche Taycan Turbo S to increase the car's stability during acceleration and steering.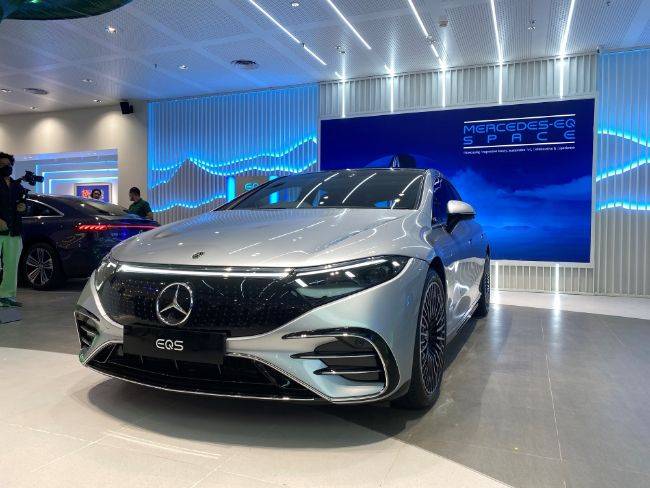 Mercedes EQ series
The German manufacturer, Mercedes-Benz, also sells 2 electric models that are included in the EQ sub-brand. It's the EQS and EQE that both have high points in transport capability, as well as superior comfort.
The EQS is a premium sedan with two variants, namely the EQS 450+ Electric Art and the EQS 450+ AMG Line. The total power reaches 770 km. Thanks to the 107.8 kWh battery and the exterior design that has been made as aerodynamic as possible. The power supply itself can be charged in 45 minutes to charge from 10% to 80% using DC fast charging. While the 11 kW wall box charger takes 10 hours.
Futuristic features like the MBUX Hyperscreen dominate the dashboard, which has one 12-inch screen in the center and two 10-inch screens in front of the driver and passenger. Available only on the EQS 450+ AMG Line. The most interesting thing is the maneuver, where the rear wheels can rotate 4.5 degrees because they are equipped with rear axle steering. The turning radius is becoming denser, as well as simplifying the parallel parking process.
For the EQE, which is the same model as the E-Class sedan, it has only one difference, namely the EQE 350+ Electric Art. The body is smaller than the EQS, so the battery used is only 90 kWh. But it is enough for a trip of 660 km. The completeness of the features in the cabin is not as luxurious as the EQS, there is a 12.8-inch infotainment screen and a 12.3-inch instrument panel in front. But the sound system is still capable of Burmeister 3D surround sound.
Both models have the Pre-Safety System Safety device. It includes Distronic Active Distance Assist, Active Lane Keeping Assist, Adaptive High Beam Assist Plus, and Tire Pressure Monitoring System features. So what is the price? The EQS 450+ AMG line is set at IDR 3.410 billion, while the EQS 450+ Electric Art variant is IDR 2.984 billion and IDR 2.215 billion for the EQE 350+ Electric Art.
(MUHAMMAD HAFID / WH)
Also Read: Being a New Trend, This is a List of Regulations for Electric Vehicles in Indonesia