World Hamburger Day is celebrated on Sunday (28/05), and at ABC there is no shortage of options for those who like to enjoy a good sandwich, an artisanal mix (a balanced combination of meat and fat) and creative and diverse spaces. Especially on Sunday, organizations still ensure different advertisements and programs.
Check out:
Burguer Bits (Avenida Dom Pedro I, 110, Vila América), in Santo André, bet on the love of traditional games such as: Mário Bros, Street Fighter and Sonic to create an instagrammable atmosphere and attract all types of audience, from children to teenagers and adults.
In addition to having video game selections every month, the hamburger joint offers one of the best all-you-can-eat burgers in the area, with six tasty options, including a vegetarian option and a mini hazelnut croissant for dessert. for R$59.90. from Tuesday to Thursday and R$69.90 on Fridays, weekends, holidays and eves. The all-you-can-eat menu also features starters such as cheddar and bacon fries, mashed potatoes, onion rings, coxinha and sauces.
Rodizio's hamburger options include: beef burger, mayonnaise made with capers, bacon, cheddar cheese, lettuce and tomato), Creamy Cheddar (hamburger, melted cheddar and bacon on a brioche bun), Smokey Burger (hamburger 180g, cheddar, smoked beef ribs and crispy onion on an Australian bun), Jalapeno (beef bar, jalapeno pepper, cream cheese, red onion on an Australian bun), Shimeji (vegetable burger with shimeji mushrooms, cream cheese, lettuce, tomato and red onion on an Australian bun) and the CheeseBurger (flank steak burger, cheddar cheese and brioche bun).
All mini hamburger options are offered in à la carte options with 180g hamburgers, including the Kitaro, which has two 180g hamburgers of flank steak, bacon, onion ring, American lettuce, tomato, red onion, cheddar cheese and mayonnaise. . Especially in celebration of World Hamburger Day, Burger Bits will have an all-you-can-eat buffet for R$64.90 per person on Sunday.
In São Bernardo, Na Garagem (Alameda Princesa Isabel, 279, Nova Petrópolis) features handmade snacks and high-quality ingredients. The entire menu is based on the names of the cars and, in all, there are 10 hamburger options and six side dishes.
Among the snacks are Brasília Amarela (160g gaga, creamy cheddar, meat sauce and pork smoked for six hours on a brioche bun), Cadillac (160g burger, cheese, arugula, gorgonzola sauce and crispy onions on a bun of brioche), Corsinha (160), cheese and bacon on a cheddar bun), Corvette (160g gaga, cheese, baked mozzarella, arugula, bacon and pepper jelly and pineapple on a brioche bun), Fusquinha (160 gram burger and cheese on a brioche bun), Kadett (two 90g patties, Cheddar cheese, bacon, crispy onions and barbecue sauce on a brioche bun), Kombosa (160g burger, cheese, iceberg lettuce, tomato and green mayonnaise on a bun of brioche), Magrela (90g smash with Cheddar Cheese on Brioche bread), Maverickicking (90g smash, cheddar cheese, plated onions, bacon, pickles and onion mayonnaise on brioche bread) and Opala (160g Burger, cheese, caramelized onions, Bacon and green mayonnaise on brioche bread). Snack prices vary between R$18.90 and R$41.90. This Sunday, snacks will be 10% off to celebrate Hamburger Day.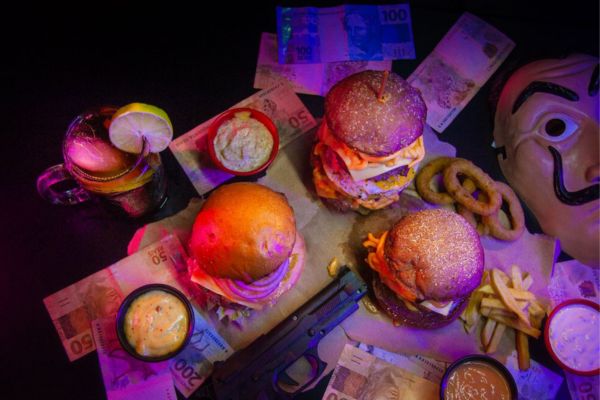 La Casa de Hambuguer (Avenida Conjunto, 889), in Diadema, decided to create a space completely inspired by one of the biggest hits of Netflix, the series La Casa de Papel, with decorations in graphite neon lights, masks used in series and instagramable spaces to take that photo with friends and family.
There are 16 snack options, all named after cities around the world, as well as characters from the series. "Our menu is very complete, from Anrel for those who like good and normal: bread, meat and cheese, to El Professor 3.0 which is made with three hamburgers, cheddar cheese, bacon, fried egg and homemade mayonnaise" , explains the sale that. manager, Jonathan Magalhães.
Recently released by the house is a Moscow snack, made of hamburger, bread catupiry, crispy onions, house mayonnaise, lettuce and tomato. For those who want to check all the prices and see which "character" they prefer, a menu is available deliverydireto.com.br/la-casa-de-hamburguer/sp?dd=menu. Especially on Sunday, the hamburger restaurant offers a 15% discount to those who visit the space.
In São Caetano, Baby Burguer (Rua Alegre, 347) keeps it casual and "well done", and uses high-quality ingredients to attract customers. "We appreciate our quality in everything we use, that's why we are growing in this market that is now very well known", says the owner of the house, Bruno Rodrigues, mentioning that the needs of the establishment are about high quality hamburgers, made. in the broiler (gas grill) and smash, made on the griddle. "This type of taste appeals to consumers of all tastes", he emphasizes.
Baby Burguer has 14 snack options of beef, chicken and even vegetables, as well as 11 side dishes such as fries, coxinha and dumplings. Full menu available
babyburger.saipos.com/home
.
For this Sunday, Baby Burguer will be open for lunch and will feature a vintage car rally with a street smoker, specialty snacks with smoked ant and beer promotion.
Receive RD every day in your Whatsapp
Send WhatsApp to 11 99237-9717 receive ABC's daily news on your mobile phone.