bola.net – Arsenal were busy in the 2022 summer transfer window yesterday. Apart from signing several new shots, they also released several players to other clubs.
Mikel Arteta has the full support of the club's owners to run the transfer market for the summer of 2022. They can get more shots to navigate the 2022/2023 season.
One of the new players who managed to bring Arsenal is Gabriel Jesus. The Brazilian striker was brought from Manchester City for a transfer fee of 52.2 million euros.
On the other hand, Arsenal also gave several players to other clubs. Released players are obviously not included in Arteta's plans.
Here are the six players Arsenal released in 2022 and their futures now.
1 of 6 pages
1. Alexandre Lacazette
Celebrity Alexandre Lacazette scored against Southampton, Saturday (11/12/2021) (c) AP Photo
Alexandre Lacazette scored only six goals in 36 matches with Arsenal in the 2021/2022 season. However, it was Lacazette's last season with the Gunners.
Lacazette ended his career with Arsenal by returning home to Lyon. The French striker's contract at the Emirates Stadium ended and the Gunners did not renew it.
After returning to France, Lacazette was able to rediscover his intensity. He has already scored 26 goals in Ligue 1 and is in competition with Kylian Mbappe to be the league's top scorer.
2 of 6 pages
2. Konstantinos Mavropanos
Kontaninos Mavropanos (c) AFC
Konstantinos Mavropanos joined Arsenal from PAS Giannina midway through the 2017/18 season. However, the chance to play at the Emirates Stadium is very limited.
After a two-season loan spell at Stuttgart, the Greek defender made a permanent move in the summer of 2022. He has made 27 Bundesliga appearances this season, contributing two goals and one assist.
Mavropanos is one of the players who has appeared regularly in the German team this season. His contract at the Mercedes-Benz Arena will end in 2025.
3 of 6 pages
3. Matteo Guendouzi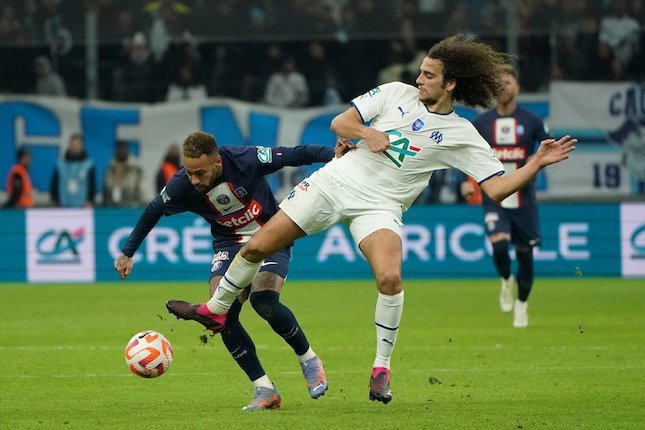 PSG striker Neymar was attacked by Marseille midfielder Matteo Guendozi in the round of 16 of the Coupe de France 2023, Thursday (9/2/2023) WIB. (c) AP Photo/Laurent Cipriani
Matteo Guendouzi has been removed from the Arsenal squad due to disciplinary problems. The French midfielder was loaned out to Hertha Berlin and Marseille.
Guendouzi appears regularly with Marseille. The club at the Stade Vélodrome finally decided to make Guendouzi's status permanent in the summer of 2022.
This season, Guendouzi is still a mainstay in Marseille's midfield. The 24-year-old made 41 appearances in all competitions scoring five goals and providing five assists.
4 of 6 pages
4. Bernd Leno
Fulham goalkeeper Bernd Leno. (c) Fulham FC Official
Bernd Leno was Arsenal's best goalkeeper. However, the German was eventually dropped to the bench following the arrival of Aaron Ramsdale.
Because he was ready to be an assistant, Leno decided to leave Arsenal in the transfer market of the summer of 2022. He accepted the offer of the promotion team of Fulham.
Leno experienced a renaissance after moving to Fulham. He was the main goalkeeper at Craven Cottage and made 36 appearances in all competitions for his current club.
5 of 6 pages
5. Lucas Torreira
Lucas Torreira made his first training session with Arsenal in preparation for the new season. (c) Arsenal Officer
Torreira's career in Arenal was not very successful. After spending his last few seasons on loan at other clubs, Torreira moved to Galatasaray in the summer of 2022.
The 27-year-old player has adapted well to Turkey. The Uruguayan midfielder is now a regular starter for Bad Okan's team.
Galatasaray are now five points clear at the top of the Super Lig standings. Torreira will soon add several names to his trophy cabinet.
6 of 6 pages
6. Hector Bellerin
Arsenal defender Hector Bellerin (left) playing against Sheffield United in the 2020/21 Premier League. (c) AP images
After playing 239 matches for Arsenal, Hector Bellerin decided to leave in the summer of 2022. He joined his boyhood club Barcelona.
However, Bellerin's career in Spain was very short. The 28-year-old full-back made just seven appearances for the Blaugrana before leaving in January.
Now playing for Sporting Lisbon, Bellerin played several times for the Portuguese giants. But he was missing when they knocked out his former club Arsenal in the Europa League in March.
Source: Planet Soccer